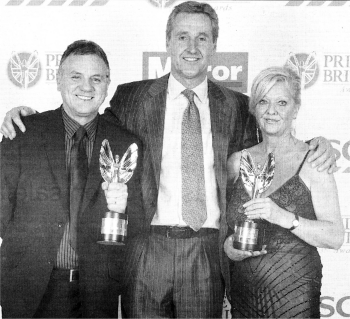 Newsreader Mark Austin with Peter Lachanudis and Susan Porter
by MARY MAGEE
SAINTFIELD woman Susan Porter has been honoured for her bravery when the notorious loyalist murderer Michael Stone attempted to enter Stormont last year with what appeared to be a gun.
She, along with doorkeeper Peter Lachanudis, stopped Stone from entering the building during a crucial meeting about forming a power-sharing executive last November. Both were honoured in the Pride of Britain Awards in front of Prime Minister Gordon Brown and a host of celebrities last Tuesday night.
Susan received a Special Recognition Award in the Daily Mirror Awards just months after being awarded a national Outstanding Act Award in the British Security Industry Association's Annual Security Officer Awards, 2007.
Stone, who was brandishing a fake pistol and a rucksack, was arrested and later charged with five counts of attempted murder.
Speaking about her experience, Susan said: "I saw a man walking towards the building with a big bag. I thought he must be a photographer but when he got closer I saw his eyes and recognised him instantly.
Peter, who noticed what was going on also leapt into action. He managed to restrain Stone in an arm lock while Susan grabbed a gun, which turned out to be a fake.
Other door keepers helped the pair wrestle Stone to the ground.
Susan, who previously worked as a policewoman for 22 years, tied Stone's shoelaces together to prevent him escaping.
That night she simply went home to bed as if nothing had happened. She said: "I didn't think anything of it. I was just doing my job. Looking back I was in a state of shock."
Speaking about that day her employer Brendan Flynn of Federal Security Services in Lisburn said praised the actions of his colleagues. He said :"When faced with a very difficult situation, Susan acted quickly and decisively putting the safety of her team and the public before her own. She is remarkable individual who went beyond the call of duty.
"She was a bit embarrassed about the attention she got following the event and wondered what all the fuss was about. But we are all very proud of her and it is an honour to work with her.