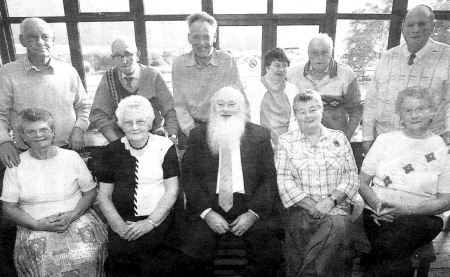 The Rollins family reunion at Gowdys Inn at the racecourse, Including Sam Rollins (front centre) who came over from New Zealand US2707-404PM Pic by Paul Murphy
A WELL travelled Lisburn man who moved away 36 years ago to start a new life on the other side of the world held a family reunion in the city last Thursday evening.
The party organised by Mr. Sam Rollins, who is now 67 took place at Gowdys at the Maze and was a major success.
However, it was not the first time the former bridge builder's relatives have seen him since he went to New Zealand and it's unlikely to be the last.
Mr. Rollins, who lives in the Wellington area, is not a person who 'allows the grass to grow under his feet'.
He is particularly fond of cruising and any time one his trips brings him in the direction of Northern Ireland he visits Lisburn.
As usual on this occasion he stayed in Hillsborough with his sister Blanche Cairns - but only after completing a cruise of the Black Sea taking in the historic city of St. Petersburg in Russia.
Prior to 1971 Mr. Rollins lived at Lurganure Road in Maze. However, after losing his wife he decided he and his young family should start a new life 'down under'. He has circumnavigated the world more than 17 times and has even flown on the now retired supersonic airliner Concorde.
However, perhaps his most memorable trip was the maiden voyage of the Queen Mary II earlier this year which ended just weeks before his Black Sea cruise began.
One of his main reasons for going on the historic Pacific crossing from San Francisco to Sydney was his love of bridges.
"It was the thrill of it all - going back to San Francisco, sailing under the Golden Gate Bridge and looking up at it," he continued.
"It is my favourite bridge in the world."
The most touching part of the trip, he said, was sailing into Auckland: "I was so honoured to have the privilege to be on the maiden voyage," he added.
So far as well as the Black Sea he has been to Canada and Alaska, the Caribbean, the Mediterranean, the West Coast USA and Mexico.
He has no plans to end his travels and still has one ambition to fulfil.
"I'm in pretty good health so I hope in the future to descend to the wreck of the Titanic," he explained. "That's one of my ambitions while I'm capable and able and fit."