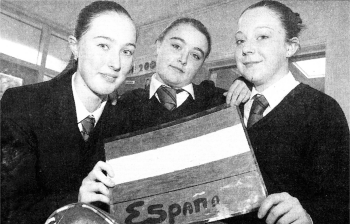 Christina Mulholland, Laurel McNamee and Melissa Roe, some of the Year 11 pupils looking forward to a place on the school's Barcelona trip. US4207-511C0
PUPILS of St Patrick's High who have excelled in terms of behaviour, attendance and commitment to work will enjoy three additional educational trips during the current academic year.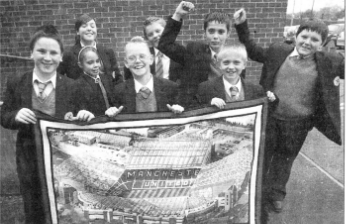 Year 9 Manchester United supporters. US4207-510C0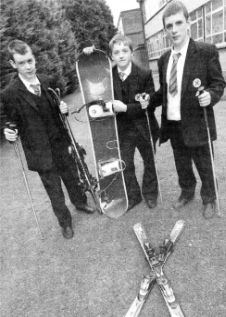 Roy Heasley, Ruairi O'Neill and Patrick Agnew, three of the Year 11 pupils going to Bulgaria on a Ski trip. US4207-508C0
The trips have been organised in line with the school's policy of both rewarding pupils and promoting health and fitness among them.
In February a party of 44 pupils and five staff will travel to Manchester to see Man. Utd. play Man City in the eagerly-awaited derby at Old Trafford. During the trip the pupils will visit the Trafford entertainment complex to enjoy activities such as ten-pin bowling, dodgems and wall climbing. Before returning home the fans will return to Old Trafford for a guided tour which will include a visit to the players' changing rooms, a walk down the famous red tunnel to the pitch, sitting in the dug-outs and learning about the business aspect of the ground. Their trip will finish with a visit to the Man. Utd mega store.
Later in the month a party of 20 pupils and three staff will jet off for a week's skiing in Pamparova in Bulgaria.
Here staff and pupils will benefit from expert tuition in the mornings before spending afternoon time on the slopes practising their newly-acquired moves.
St Patrick's are also in the process of organising a trip to Barcelona in April to allow pupils to improve their Spanish by conversing with locals and learning more about the country's rich culture.
All trips were sold out within days of being offered to students. Parents were also given the opportunity to participate in these trips and some are accompanying the pupils to see the Man. Utd game.
In March a group of students will visit the battlefields of Belgium as part of their history studies as well as taking time out for relaxation and entertainment which will include a visit to the famous Asterix theme park