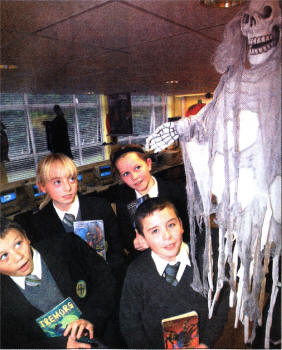 Front row from left - Darragh Loughran and Jason McKay Back row from left - Shauna Cardwell and Sarah Larkin in the new St.Patrick's Library which was kilted out for Halloween. US4407-520C0
ST Patrick's High School has officially relaunched its revamped Library under the direction of newly-appointed Librarian Mr Gareth Part.
The Library was closed for a number of weeks to facilitate the overhaul which included purchasing a significant number of new titles, redesigning the layout and launching an updated induction programme in both English and Polish.
Mr Part also said he has a number of new initiatives planned the library: "I am really excited about my recent appointment and am looking forward to introducing theme weeks, competitions, story tellers and other unique opportunities to develop our pupils' reading," he said. "This term I have been promoting the 'One Book Project' which is an exciting reader development initiative being run in a number of other schools across Northern Ireland. Pupils have been reading and discussing the thought-provoking novel 'The Boy In The Striped Pyjamas' by John Boyne, and the response has been marvellous."
Pupils and staff alike are impressed by the facility and excited about its future.
Mrs McCann, Head of English said: "The Library plays a crucial and integral role in St Patrick's. All Year Eight pupils complete a fun and educational induction programme.
All English pupils visit the Library frequently for research and pleasure as part of the school's ongoing commitment to raising Literacy standards."
Dione Michie, of Year Eight who has already started the induction programme said: "The Library is brilliantly decorated for Halloween with lots of spooky poems and horror stories on display.
"I chose a book called 'Buddy', which I love. I think I will make great use of the library over the next few years as I can even visit it at lunchtime. I can't wait to see what Mr Part has planned for Christmas."