by JULIE-ANN SPENCE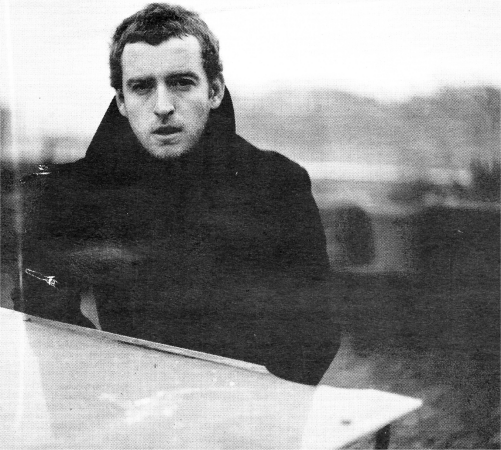 Stephen Fretwell
THERE is always the fear when you interview a musician you admire that they will be disappointing. Luckily, when I interviewed singer songwriter Stephen Fretwell he was anything but disappointing.
Stephen, who is looking forward to his visit to Belfast in the New Year, was self-deprecating and witty, with no apparent concept of his overwhelming musical talent.
Stephen's many local fans will have been deeply disappointed when the Manchester singer cancelled his Limelight gig earlier this year. Rest assured however, he had a very good excuse.
"I got to Belfast, got to the hotel, got into my room and went a bit delirious. I couldn't come round, it was really bad. I've never cancelled a gig in my life."
So, having read that I'm sure his fans will forgive him and look forward to 'Stephen Fretwell Plays Belfast Take Two'.
With characteristic modesty Stephen stated simply about his pathway to musical success: "I was always into guitars when I was a kid. I always liked music but then everyone does don't they?"
But
not everyone takes that love of music and transforms it into a hit record and not everyone is capable of following up that debut with an even more accomplished second album.

Stephen's debut album Magpie was a phenomenal success, the maturity and depth of which belies his tender years.

If you have never seen Stephen you would be forgiven for thinking he was much older than his 26 years. But it is even more shocking to learn that he penned Magpie when he was just 18.

"I had my photograph taken the other day and the photographer thought I was 46," joked Stephen. "I think I write old man songs."

One of those 'old man songs' was 'What's That You Say Little Girl'. "I always did write songs when I was a kid but they weren't as good as the ones on Magpie.

"I wrote 'What's That You Say Li
tt
le Girl' and I thought 'that was alright, I could maybe do this is if I worked hard. It was a real turning point for me.

"I never really know whether the songs are good or not.
"I
find the songwriting process hard. I always think I'll never have another good song.

"The songs just strike me, like a little musical idea. The best ones are when you have really got something to say, or if you are upset or happy about something.

"The tough one is when you know you have got to write a few songs for an album and you worry that you're just making it up." Stephen took some time out after the release of Magpie and found himself visiting friends in New York. And whilst there he recorded the notoriously difficult second album 'Man on the Roof'.

"I really hate bands that go to America to record an album but now I can't say that because I did it too. But it was just a natural thing that happened. People expect there to be an American flavour to the album but there isn't.

"It's more of a British album because I could see those idiosyncrasies from my childhood from being away. There's a lot of colloquialisms in it."

When Stephen steps into the Limelight on January 25 he will be all alone. But no doubt the Belfast crowd will make him feel at home.

Looking forward to the show, Stephen said: "I have never played in Northern Ireland, I've only played in Dublin. I'm really looking forward to it a lot.

"Two guys from Elbow were my backing band but they're busy and can't come with me so I'll be on my own.

"Bands don't always like playing old songs but since I'll be on my own I can play all my old songs as well as the new ones."

After his Belfast gig, Stephen will be playing in Dublin, London and his hometown of Manchester before taking a break from the live circuit.

Stephen's fans had to wait three years for the follow up to Magpie but Stephen promises the third album won't be long in hitting the shops.

"I am going to do a new record in February so it's just a case of getting songs written. I am going to try to get that out by the sum- mer, he promises.

And if you can't wait that long for a new tune, check out www.stephenfretwell.com where you can download an mp3 of 'Oh Christmas Tree'.

Stephen Fretwell will be taking to the stage of the Limelight on Friday January 25. Tickets are on sale now from all usual Ticketmaster outlets.