by CHRIS JONES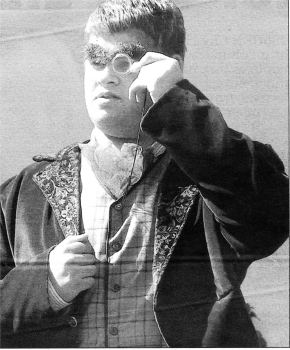 Michael Hudson as Professor Purple in the film.
DUNMURRY teenager Michael Hudson (18) and Ryan Morgan (15) from Lisburn are among a group of talented young deaf people from Northern Ireland who have produced a horror film shown at the Belfast Festival at Queen's last week.
Organised by deaf children's charity NDCS, First Light Movies and BBC Blast NI, the initiative brought together a group of 14 deaf teenagers aged 14-19 with industry professionals in August this year.
The young people learned a range of film making skills including directing, script writing, acting, and costume and make-up design, before working together to produce the five minute film, 'Murder on the Manor'.
Michael, who played Professor Purple in the film, said: "I have always enjoyed watching films, so I was really keen to learn how to make one. It was great fun taking part in the acting, and I found it very interesting to see how the rest of the film was put together."
Ryan, who played a policeman in the film, said: he had enjoyed taking part and added: "I also made new friends during the weekend, so I really gained a lot from the experience.
The project has been running for three years, but the funding from First Light Movies and BBC Blast NI enabled this year's event to the biggest cast ever.
NDCS spokesperson Stacey McStay said: "The young deaf people working with BBC Blast were involved at every stage including acting, directing, making camera shots and editing material from the week.
"The project allowed young deaf people to come together and gain hands-on experience in a specialised industry, giving participants a taster in film production and maybe a foot in the door to their desired career."