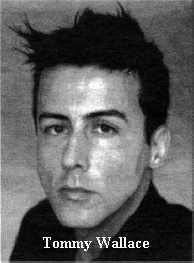 LISBURN man Tommy Wallace is stepping into a very unusual role in the Lyric Theatre's latest production - as the Wicked Witch of the West in The Wizard of Oz.
Tommy, a professional actor, was born and bred in Lisburn before treading the boards in the West End in Andrew Lloyd Webber's acclaimed musical Cats and appearing in television programmes such as A Touch of Frost'.
Now he has returned to Northern Ireland and will be donning his witches hat as the curtain goes up tonight (Friday) on the Lyric Theatre's production of 'The Wizard of Oz'.
"I originally auditioned for scarecrow and tinman," explained Tommy. "When I went to leave the choreographer said the director wanted me to read for another part and I found out Richard wanted me to read for the Wicked Witch.
"We are doing the Royal Shakespeare Company's version of The Wizard of Oz and they had a man playing the Wicked Witch. It works really well.
"Rehearsals are going well. The cast is so strong and most of us know each other so there is a real family feeling."
Joining Tommy on stage at the Lyric will be Rachel Tucker as Dorothy and Karen Rush as the Glenda the Good Witch. The show is directed by Richard Croxford and choreographed by Deborah Maguire.
For further information on 'The Wizard of Oz', which runs until January 12, or to book tickets contact the Lyric Theatre Box Office on 9038 5685.