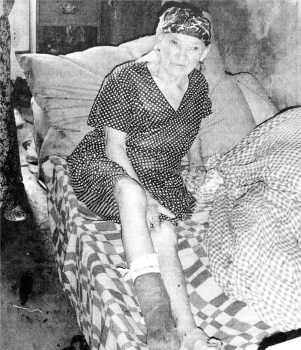 The lady in the terrible living conditions.
A LISBURN woman has just returned from a trip to Romania where she helped to ease the living conditions of an elderly couple in Romania by giving the couple's home a makeover.
Tracey Allen, along with fellow First Lisburn Presbyterian Church members Nicola and Nadine Anderson, had been working with the Smiles Foundation in the area for some time when Tracey became involved in the rescue operation by volunteers.
She had called by chance at the home in Uileauc-de-Cris, close to the Tileagd region of Romania and was staggered when she found living conditions which were beyond belief in the home of the couple in their eighties.
The woman had been bedridden for two years because of leg ulcers and her husband was unable to cope. The house was in a terrible condition with damp walls and urine causing a stench. Tracey and the group helped to move the couple into temporary accommodation before they started to clean the home.
They threw out all the bedding and most of the furniture, lifted the floorboards and started to clean the house before repainting it and seeking out a bed and other furniture.
The couple were moved back in after 12 hours work by the volunteers and the woman was, understandably, emotional.
The group have had many serious issues to deal with whilst they have been in Romania and are now trying to get access to the children's hospital after the Romanian government would not allow them to go into the hospital, where they hope to be able to re-home some of the children.
The Smiles Foundation need any assistance that can be given. If you are interested, please contact Penny Kennedy at 90 593446.