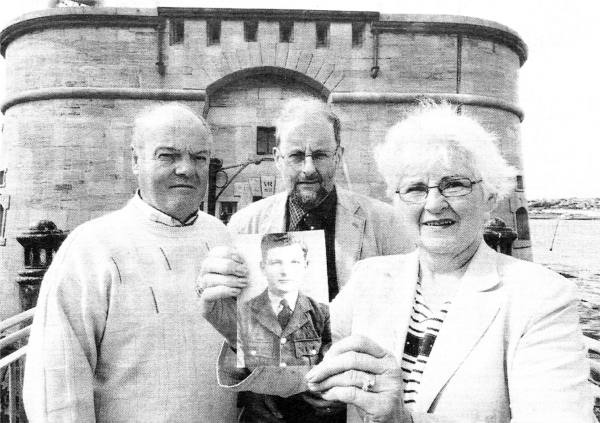 Valerie Irvine, of Hillsborough, displays a photograph of her uncle, Robert `Bertie' Millar, which is featured in Pembroke Dock's Gun Tower Museum. With her are husband Robert (left) and John Evans, of the Pembroke Dock Sunderland Trust. Picture: Martin Cavaney Photography.
THE niece of an RAF airman who was killed 67 years ago has made a poignant visit to the Welsh museum where her uncle is remembered for his heroics during the Second World War.
Valerie Irvine, from Hillsborough, and her husband Robert, made a special journey to Pembroke Dock in west Wales to see the display featuring the 10-man crew of a Sunderland flying boat.
Valerie's uncle, Robert `Bertie' Millar, who was from Limavady and was 18, was based at RAF Pembroke Dock with the RAF's 210 Squadron. Following the invasion of Norway by German forces in April 1940, Sunderland flying boats were sent on reconnaissance missions to discover what was happening on the ground.
Robert's Sunderland, serial L2167, was sent from Scotland to the Oslo area on April 9. The mission was completed but the four-engined flying boat was attacked and shot down by German fighters west of Oslo, crashing near Drammen.
Miraculously one member of the crew, Welshman Ogwyn George, survived a 3,000 ft fall without a parachute, landing in trees and snow.
The remaining crew members were buried at Sylling where their graves are beautifully tended by the villagers.
Valerie has been to Norway to visit her uncle's grave but had not been to Pembroke Dock where the town museum has a special display on Sunderland L2167 and its crew.
Contact
"A few years ago the museum got in contact with my family and we were able to pass on a photo of Uncle Bertie and other information. Since then I have wanted to visit the museum and the town where my uncle was stationed," said Valerie.
"The museum is in a Victorian gun tower, a marvellous backdrop for the stories it tells."
The actual aircraft in which Robert Millar flew.
Valerie met up with aviation historian John Evans who was able to tell her of plans by the Pembroke Dock Sunderland Trust to raise the remains of a Mark I Sunderland which sank nearby in 1940.
"The Mark I was the type of Sunderland my uncle flew in and we do hope that they will be able to recover the plane and place it on display where it will capture the imagination," added Valerie.