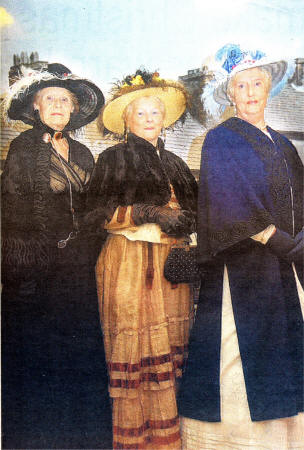 Members of the Lisburn War on Want NI prepare for the War on Want NI Glimpse Into The Past fundraiser in Bow Street Mall on December 15.
BOW Street Mall will have an unusual Christmas treat for shoppers this weekend when members of the Lisburn War On Want NI shop give local people a 'Glimpse Into The Past' as they raise funds for charity.
The event, which will be held tomorrow (Saturday) from 11.30am, is part of a fundraising collection by War on Want NI, raising funds at Christmas to support children in Malawi, Uganda and Tanzania who have lost their parents to Aids.
Shoppers will be able to see rare and antique Victorian and Edwardian clothes modelled by the Lisburn volunteers, portraying the Lisburn characters who would have worn the gowns. It is a fine array of period clothing presented by the Lisburn ladies with a mixture of style and wit. The presenta-
tions take place in the morning from 11.30am, followed by music presentations by students from local schools in the afternoon.
Make sure to visit Bow Steet Mall, experience the entertainment and also help raise funds for much needed support services in Africa.
For further information on War On Want visit the website at www.waronwantni.org or call 028 9023 2096.