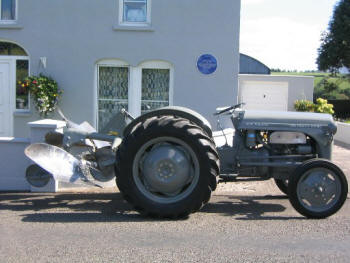 NEXT Friday (September 14) will see a dream begin to come true for a group of Harry Ferguson enthusiasts keen to see a memorial erected to the Dromore man whose invention of the 'wee grey fergie' tractor changed the lives of farmers all over the world.
The first sod of a memorial garden commemorating the inventor's life and work is due to be dug at his former home 'Growell' at 3.00pm.
Appropriately, the organisers are keeping their fingers crossed this will be done by a period Massey Ferguson digger machine instead of a spade.
Mr. Bill Forsythe of the Ferguson Celebration Committee explained the Memorial Garden will be set opposite the Ferguson Homestead.
"It will feature a life size bronze statue of Harry as well as a facility to display a Ferguson tractor plus information and history boards," he continued.
"The Memorial Garden will be designed so photographs taken will include the house in the background."
The local Committee will be joined by Ferguson enthusiasts from Virginia in Co. Cavan.
Arts and Culture Minister Lagan Valley MLA Edwin Moots has also been invited along with local council representatives.
Mr. Forsythe explained fund raising for the project began seven years ago.
"We are still holding events at the Homestead every August. We thank all those who have supported us in the past by attending our events from all over the country," he concluded.