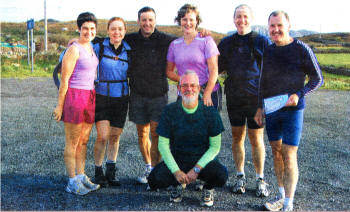 The Irish team who took part in the Welsh `adventure race'.
FOUR members of a seven strong Irish team which won a gruelling 'adventure race' in Wales earlier this month came from Lisburn. The team captained by local man Colin Henderson upheld the honour of both the Duke of Edinburgh Award Scheme in Northern Ireland and the President's Award in the Republic after spending two days taking part in a variety of challenging activities. Colin was joined by Alan Pentland and Karen and Ian Mawhinney (also from Lisburn) as well as Caro-Lynn Ferris, Norma Rae and Stephen Peers.
The event, organised by the Welsh Section of the Duke of Edinburgh Scheme involved road and fell running, abseiling, canoeing and orienteering.
In a chilly finale each team faced a challenge involving a section of 'coasteering' during which they had to plunge into the choppy seas off Anglesey.
The Irish winners who found the race 'enjoyable but challenging' competed in warm autumn sunshine against 20 other teams from all over Wales and beyond.
However, in order to catch the ferry back across the Irish Sea they had to leave before the prizegiving and had no idea they had won.
As they boarded the vessel they knew only they had been in fourth position at the end of day one.
"We received the final results when we on the car-deck of the HSS ferry," explained Colin.
"We were obviously delighted but also shocked to discover that we had finished first.
"For a team whose combined age was 318 it was a tremendous achievement. We beat some teams whose age total was just about that of the two most senior members of the Irish team."
The team who were sponsored by Target Dry and Stena Line will now have to defend their title in 2008 - when another seven years will have been added to their total age tally.