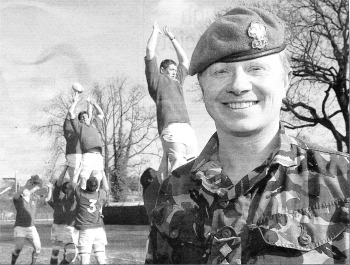 Captain James Bunyard a member of the 1st Battalion of the Royal Welsh Regiment watching the U19 Welsh rugby team
THE Welsh rugby team, who played New Zealand in the Under 19 World Cup at Ravenhill yesterday, have been preparing for their match in Thiepval Barracks.
Corporal Gerwyn Taylor (29), from Porth, Rhondda is the Team Liaison Officer (TLO) for the Welsh team during the tournament which will last three weeks and has 24 nations taking part with over 900 players, officials and media representatives from around the world.
Gerwyn, who joined the Army in 1998 has served in Germany, Oman and Kosovo and is currently based in Thiepval, has a keen interest in rugby and helped secure the training facility for the team.
A combined services and Ulster senior league referee and a patriotic Welshman, Gerwyn volunteered for the job of TLO and is the link between the organisers and the Welsh Rugby Union, ensuring the team is at the right place at the right time and sorting out any problems they might have.
He said: "I'm really looking forward to the tournament, there has been a lot of preparation work done and hopefully everything will run smoothly for the team.
"I've taken some time off work to be with the boys and hope they enjoy their time here in Northern Ireland.
"It's been great to be able to secure the use of the pitches in Thiepval for the team.
"This means the guys from work can come down and see the team work out. I'm very proud to be with my national Under-19 squad and be part of this great event."
The Welsh Under-19 National Rugby Manager, Darryl Hill said: "The training area at Thiepval is just what we need for the warm up and to have some fellow countrymen support us during training is great.
"Gerwyn is a very enthusiastic TLO and is helping make things run smoothly for us."