Pride and sorrow for widow of murdered UDR Sergeant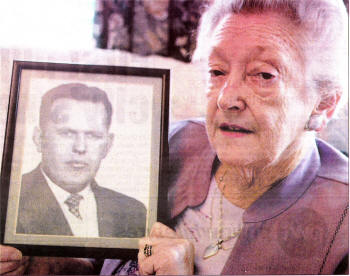 Sheila Crawford holds a picture of her late husband Maynard, a sergeant in the UDR who was murdered by the IRA in 1972. US3607-533C0
`We were so happy and things were going so well for us. It was unbearable'
SATURDAY will be both a proud and emotional day for Lambeg woman Sheila Crawford.
She will be unveiling a Memorial Stone commemorating members of the Ulster Defence Regiment from the Lisburn area killed during Northern Ireland's 'troubles'.
And among the soldiers whose names appear on the stone at the War Memorial in Castle Street is Mrs. Crawford's late husband Maynard, a part time Sergeant in the UDR.
He was the first Lisburn member of the Regiment to die in the violence when he was shot dead at Kings Road, Newtownabbey on January 13 1972.
A building site foreman, he was sitting in a van waiting to take workers home just after 4pm when four gunmen pulled alongside in a dark blue Ford Cortina and fired two shots through the window.
Mr. Crawford was hit in the head and died instantly.
He was the sixth of almost 500 people to die in the troubles in 1972, the bloodiest year of more than three decades of violence.
Almost 36 years later his widow can still clearly recall the terrible winter afternoon when life was so cruelly changed for her and her two little boys Nigel (9) and Brian (3).
"I had spoken to Maynard about an hour earlier on the phone and I was expecting him home for dinner," she said.
"The boys were watching television. Then two of Maynard's friends from the UDR arrived at the house and they turned it off because they thought details of the shooting might be broadcast.
"They wanted to tell me what had happened themselves. They were not happy having to break the news but then someone had to do. it "
Mrs. Crawford received scores of wreaths and around 150 letters of condolence.
Her husband's funeral at Lambeg was one of the largest seen in the area for many years.
But when everyone else had gone she, Nigel and Brian had to face life without a much loved husband and father. "People don't realise what it's like. It was just like everything we had worked for - all our hopes and ideas - had just been pushed to one side," Mrs. Crawford continued.
"Maynard would not have hurt a fly. We were so happy and things were going so well for us. It was unbearable."
Before joining the UDR Mr. Crawford spent 17 years as a member of the Ulster Special Constabulary.
"He was approached about joining the Regiment when it was being formed at first," Mrs. Crawford explained. "They wanted people who had experience of that sort of thing but it was a difficult time.
"He was out on duty at nights and then going to work the next day. It really wasn't easy for the children either." In the aftermath of Mr. Crawford's murder relatives in England tried to persuade his widow to join them. She did consider making the move but eventually decided to remain in the home she had shared with her husband.
She still lives there and will attend any event that pays tribute to her husband and other members of the regiment killed during the troubles.
However, she also feels people like Mr. Crawford who died in the early days of the troubles are now very often forgotten.
Looking back over 35 years of life as a widow she said she will always be grateful to everyone who helped her both in the immediate aftermath of her husband's death and during the decades which followed.
She had a special word of thanks for her former employer with whom she worked for 42 years saying he had always shown her great kindness.
EIGHT UDR soldiers are named on the Memorial Stone due to be unveiled by Mrs. Crawford tomorrow:
Sergeant Maynard Crawford who died on January 13, 1972.
* Corporal Roy Staunton - June 9, 1972.
* Corporal David William Bingham - January 16, 1973.
* Private Tommy Forsythe - October 16, 1973
* Private Linden Colin Houston - January 20, 1984
* Private David Montgomery - March 8, 1984
* Private Joseph Mcllwaine - June 12, 1987
* Private William Richard Megrath - July 23, 1987
The ceremony will take place at 12.45pm and will be preceded by a parade from the Royal British Legion premises in Sackville Street. This will begin at 12.30pm and will he led by the Band of the Royal Irish Regiment making its last appearance on the streets of Lisburn before its disbandment next month.
The parade will make its way to Castle Street via Wallace Avenue and Railway Street. Following the short service it will march round the Irish Linen Centre and Museum before proceeding back along Railway Street. The event will be attended by the Lord Lieutenant for County Antrim Lord O'Neill, the Mayor Councillor lames Tinsley as well as local politicians, military personnel and members of the PSNI.
Representatives of the Royal British Legion will also he present as will members of the UDR Association from all of Northern Ireland's six counties.
Ulster Star
07/09/2007