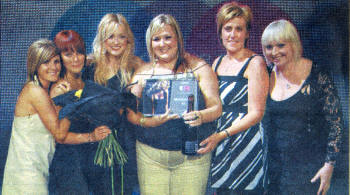 Yvonne with her trophy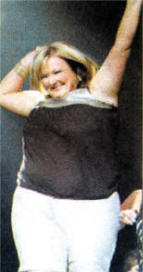 A TALENTED Lisburn hairdresser has won the L'Oreal Young Colourist award at the Grand Final recently.
Yvonne Frankel (22), who works at Exclusive Hair Company, was crowned overall winner. It's the first time in the 52-year history of the competition a competitor from Northern Ireland has won this category.
Yvonne competed with over 1,200 of the world's top hairdressers who gave her a standing ovation when she collected her award from television presenter Fearne Cotton and Jayne Lewis-Orr, Editor-In-Chief of Hairdressers Journal.
Yvonne said it was a very emotional time. "I couldn't stop Yvonne with her trophy crying when I heard my name -I still can't believe it," she said. "Just to be at the Grand Final is a dream come true - to win is simply the best feeling in the world. My prize is amazing and I'll be working on magazine photo shoots and will also be shadowing a top colourist. It will be great to find out all the tricks of the trade."
Jo O'Neil, Global Technical Director for Toni&Guy said afterwards: "Yvonne's composition of the total look was excellent and she had created an incredible technique that worked beautifully with the cut. The colours that she chose worked well and the finish was perfect. There was no doubt that she was a deserving winner."