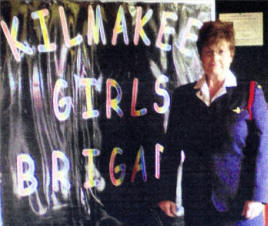 A WELL known member of the Girls' Brigade has retired from Kilmakee after 43 years service - 40 of them as Captain.
Anne Russell, also a Sunday School Teacher for 20 years, has worked with three generations of children in her years as Captain, training the girls to such high levels they regularly won awards for district, Northern Ireland, All Ireland and British Isles competitions.
Anne trained officers and sub-officers and initiated girls from the company in the Duke of Edinburgh Scheme.
Recently four girls won the Queen's Award. During her years of involvement in GB, Anne has served nine years as District Commissioner and has also served on the National Board.
It has been an honour and a privilege to serve God in this way but I couldn't have done it without my dedicated band of officers and sub officers and of course a very supportive husband."
Anne intends to help out in the district and wishes the new Captain Audrey Godfrey and her brilliant officers all the very best.