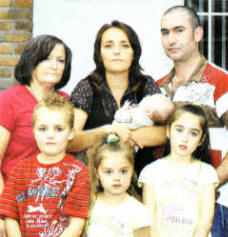 A DUNDROD woman was forced to wade waist high in water in the early hours of Sunday morning to bring her ten-week-old baby to safety.
Colette Coyle and her family had been holidaying in Windsor caravan park in Newcastle all summer but in the early hours of Sunday morning a deluge of water caused by the freak weather swept through submerging their caravan and two cars -a Toyota Starlet and a Ford Galaxy.
The family were wakened around 2am by screams from their neighbours who had seen what was happening. It is believed that a local river had burst its banks causing widespread flooding.
Colette lifted her baby Ronan while her husband Patrick grabbed the other children James (10), Caitlin (7) and Patricia (4). Colette's mother Patricia Gallagher, who suffers from a heart condition, and her father-in-law Brian Coyle were also staying in the caravan.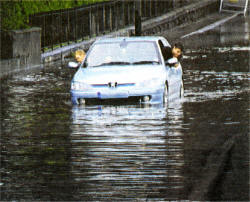 Colette described the experience as a 'total nightmare. "I hardly had time to get
the family out of the caravan," said Colette. "We got up and I could not believe what I was seeing. The children were crying and screaming, it was all very chaotic.
"It was terrifying, I have never seen anything like it in my life. I am still in a state of shock thinking back on it. I held the baby and would not let anyone else hold him because I was afraid he would slip.
"It was like a nightmare that I thought we were all going to wake up from." Colette said they tried to ring the emergency services but to no avail.
They remained on the site until the next day when they rang relatives to come and bring them all home. "This is our second home so at least we had a home to come back to" she said. "It is still devastating and we are all very sad. We love to stay in the caravan. We are just picking up the pieces and contacting the insurance company.
"I am just so glad that we are all safe and well. I feel so sorry for anyone whose house was destroyed."
Drinking water safe following floods
RESIDENTS are being advised that drinking water in the Lisburn area is safe to drink -despite the severe flooding.
A Northern Ireland Water spokesperson said the security of drinking water had not been affected.
"Despite many people- experiencing both internal and external flooding, NI Water can assure customers that their drinking water is completely safe to drink" they said.
"Despite the exceptional volume of rainfall and the resultant surface flooding, all of our water supply assets remained fully functional. The only exception to this is an
interruption to supply for customers in the South Down area. This was due to a damaged outlet main from Fofanny Treatment Works which was a result of rain damage over the weekend to the Cavan Road, Rathfriland. Whilst this has caused an interruption to water supply, the quality of drinking water is not in question.
"NI Water sample and analyse drinking water 365 days of the year to proactively check the quality of drinking water at our customer's taps. Our water supply is stringently monitored and this strict scrutiny has remained in place during this flooding period."