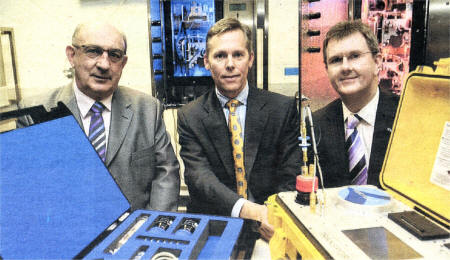 John Cunningham (left) former MD of Kelman LTD pictured with Bob Gilligan, Vice President of General Electric and Junior Minister Jeffrey Donaldson at the acquisition announcement by GE Energy of the Lisburn based company. Photo John Harrison.
THE Managing Director of Lisburn firm Kelman Ltd., a leading provider of advanced monitoring and diagnostics technologies for transformers, has described its acquisition on Wednesday by GE Energy as 'good news' for all its customers.
Mr. John Cunningham said GE was a company "with numerous strengths including its technology and research and development.
"The company's commitment to invest in people and products will greatly increase Kelmans capability to bring quality products to our customers around the world," he added. Kelman will enhance GE's smart grid product portfolio.
These products are designed to help utilities increase productivity and reliability, while also providing consumers with information to better manage their electricity use and expenses.
Integrating real-time data and information management systems, grid intelligence solutions help utilities optimize their operations and extend the life of their equipment.
Adding Kelmans expertise, experience and multi-gas measurement-technology will expand GE's smart grid portfolio by providing utility customers with a much more comprehensive-product offering. Kelman's advanced dissolved gas analysis (DGA) capability delivers a new level of predictive maintenance for the utility industry allowing utility operators to have greater line of sight into the health and longevity of their transformer fleets.
Kelman's advanced DGA technology provides critical condition monitoring for high power electrical transformers.
This technology enables Kelman to deliver state of the art multi-gas portable and on-line DGA equipment.
These products are now being used successfully by some of the world's largest utilities to protect their critical assets.
"With its outstanding industry knowledge and proven technology, Kelman is an excellent fit with our overall smart grid initiative," said Bob Gilligan, Vice President of GE Energy's transmission and distribution business.
"Adding Kelman's innovative transformer monitoring and diagnostics capabilities will benefit our customers and allow us to serve a broader base of users."
With the acquisition completed, Kelman's employees are now part of GE's transmission and distribution operations.
GE Energy (www.ge.com/energy) is one of the world's leading suppliers of power generation and energy delivery technologies, with 2007 revenue of $22 billion. Based in Atlanta, Georgia, GE Energy works in all areas of the energy industry including coal, oil, natural gas and nuclear energy; renewable resources such as water, wind, solar and biogas; and other alternative fuels. Numerous GE Energy products are certified under ecomagination, GE's corporate-wide initiative to aggressively bring to market new technologies that will help customers meet pressing environmental challenges.

12/09/2008