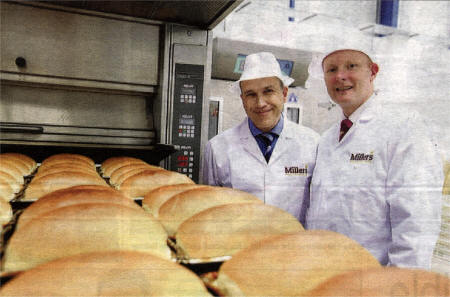 THE Lisburn owner of one of Northern Ireland's leading specialist bakeries has described the company's move to new state of the art premises as 'a hugely exciting time.
Martin Millar, Managing Director of Millers Bakery which hopes to increase its workforce by 30 per cent over the next three years, said the firm's new site at Heron Road in Belfast Harbour Estate was "modern and purpose built.
The relocation means not only creating extra capacity to meet the demands of an ever changing market, but also a chance to improve systems and work flows," he added.
Mr. Millar said customers 'lay at- the heart of the company's innovation' along with the "ongoing expansion of its product portfolio.
"This is a great opportunity to build the brand yet retain our reputation of craft baking which has been unique to Belfast for generations," he added. Miller's established 'Proper Belfast Baking' when it opened for business in 1997 and currently has 60 employees. The company produces over 150 products and supplies many of Northern Ireland's leading local retailers including Centra, Co-Op, Mace and Dunnes Stores.
The move to Heron Road has been made possible by a deal between Millers and Bank of Ireland with support from Invest Northern Ireland. Its Associate Director of Business Banking Paul Millar said they had worked closely with the team at the bakery "to help them achieve a strategic focus to ensure the Miller's brand is well placed to grow in the competitive food sector.
"This deal demonstrates how Bank of Ireland can work effectively with local business and Invest NI to fund development and growth opportunities that are so crucial to the strength and vibrancy of the local economy," he added.