by STACEY HEANEY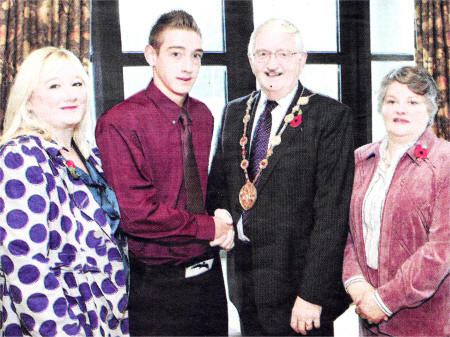 A LISBURN soldier who recently returned from a tour of Afghanistan has described the daily dangers facing troops in the war zone.
Phillip Stout, who was on a six month deployment with the Royal Irish Regiment, has said it was just "luck" if you made it back alive.
22-year-old Phillip, who is a former pupil of Brownlee Primary and Lisnagarvey High School, was injured whilst serving in Helmand Province when he was struck by an RPG (Rocket Propelled Grenade) in August, leaving him with severe bruising, swelling and cracked ribs.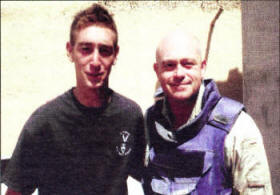 Phillip was also personally affected during his time there when his best friend lost both legs whilst serving in the region. Speaking this week Phillip said: "It is just luck if you come back alright. You can be out on patrol and decide not to check down an alley and go straight on instead, and then later a civilian, maybe with a donkey, will go down that alley and set something off. "Another time we decided not to go straight ahead, going down back alleys instead and we came across the Taliban. One of our guys was shot in the shoulder in the attack but if we had gone the other way they would have seen us first and we would have walked straight into an ambush." Phillip has had a three week break since returning from Afghanistan and will now be going back to work at the RIR's Shropshire base.
He attended the Homecoming Parade in Belfast last Sunday and said the event, which attracted thousands of well-wishers, made him feel 'proud'.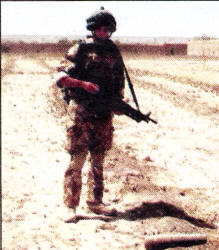 "I couldn't hear any of the commands or the band, any Phillip said. "We attended parades in England as well but the one here definitely had more people. There was a different type of atmosphere, the crowd were more enthusiastic."
Phillip's mum June said the family, brother Mark, 19, and sister Rachel, 15, are delighted to have him back home from Afghanistan.
"We're so glad he's back. There were times I would be speaking to him on the phone and I could hear the explosions or shooting in the background and he would say, 'I have to go, I have to go, they're shooting', and then I wouldn't hear anything else from him and I would be sitting wondering what was happening to him.
"His battalion only lost one member, which was terrible for his family, but it was fortunate there was only one."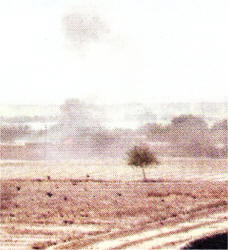 Phillip and his unit were patrolling the front line with equipment weighing around 80lbs in temperatures reaching 50 degrees Celsius.
They were under constant attack from the Taliban, and often found themselves in extremely difficult situations.
"There was one occasion when we were attacked from four sides and had to radio for assistance we had to use a plane to blow up a Taliban compound.
"If you were out for more than 24 hours you had to find a house to stay in because you can't stay out in the open as they will find you."
One of Phillip's main objectives whilst in Afghanistan was assisting the Afghan National Army (ANA). It was whilst out on patrol in August that members of the ANA came across the Taliban and radioed for back-up. Phillip and his unit went out to assist the ANA and they soon found themselves in the middle of a battle.
"We went to give support and as we came down the road there was 600 metres of open field. As we crossed over the open field they ambushed us. They had a compound to the left and one to the right and a corn field in between so we couldn't really see them. They were firing heavy machine guns, light machine guns and RPG's."
Phillip was struck by an RPG in the chest and had to spend four days in hospital following the attack.
"There were three or four bits in total that struck me, I was hit just above the heart and on the collarbone. I think there were quite a few firing at us and there were two on the roof firing RPGs. The rest of the team managed to take them out as there were no rockets fired after that. We were too
close for air support but we managed to pull back."
Phillip concluded, "Joining the army was something I always wanted to do and I am glad that I
have had the chance to go there.
I may have to go back in a year or so, you never know when you will be called upon, but I am proud to have served out there."