Baby Pi with mother Gladys, Belfast Zoo's Ring tailed lemurs, Baby Pi, the Malayan Tapir and The Eastern Bongos - some of the animals Allan looks after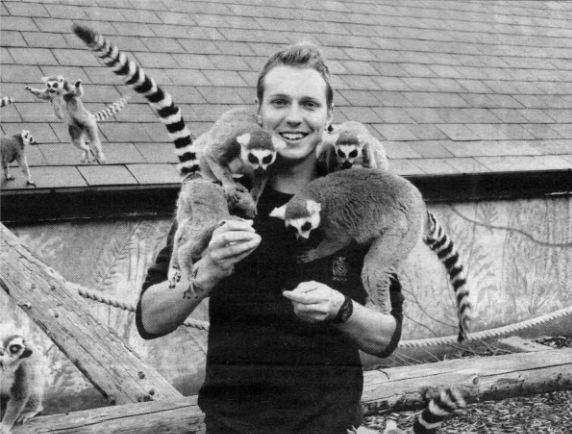 WHILST many of us still search for our ideal job, local man Allan Galway is living his dream as a zookeeper at Belfast Zoo.
Allan, 24, from Dromore, has been working at the zoo for three and a half years, having joined from being a member of the 'Friends of Belfast Zoo.
Allan explained, "I was at Queen's studying Zoology, when I took some time out. I joined the Friends of Belfast Zoo and got myself more involved and luckily an agency job came up and about eight months later I went for a full time job as a zoo keeper. I got the experience you needed and I was lucky, but I love my job."
It was growing up in Dromore that helped Allan to develop his love of animals. He explained, "Growing up in the country surrounded by animals and wildlife helped to develop my love of animals and my grandparents and parents also love animals. Every year for my birthday and Easter they used to take me to Belfast Zoo, so I've always had an interest in the natural world."
Variety
Allan's work brings him into contact with a variety of species, with Allan primarily looking after the Bongo, Tapir and the Lemurs.He said, "It was my love of animals and the challenge of trying to save the species which got me involved in my work. I look after a couple of different antelope species, my favourite is the Bongo which comes from Kenya. There are less than 200 of them left in the wild; we have a group of 11 here, which is one of the biggest in the UK.
"I also look after the Tapir's, which are black and white animals with a sort of snout. We have a baby here at the moment and when they are babies they are brown with white spots, so it sort of looks like a watermelon with legs.
"I also care for the Lemurs which are free ranging, they can climb over the visitors and we have a set feeding time at which I'll give a talk about the animal, where they are from, what they eat and what can be done to save the species etc."
A large part of Allan's job is trying to find ways to save species from extinction in the wild. This has taken him across the world to zoo's in Australia and Asia, and he had the chance to work in Steve Irwin's Australia Zoo. "We have the Bongo Experience at Belfast Zoo where people will have the chance to feed them, one reason for this is because we wanted people to see how important the animals are and how important the zoo is.
"The majority of animals we have here are endangered. The Barbary Lions we have here are extinct in the wild and we work with the European Association of Zoos and Aquaria (EAZA) and worldwide global programmes to bring animals from here to America and Australia etc. As part of this we released a White Tailed Sea Eagle chick onto a reserve in Israel."
Allan continued, "It is definitely not a job, it's a passion. Through our Bongo Experience we hope to have a donation box which can fund research into the genetics of wild and captive animals.
For a lot of people it is a fun day out but there is such a bigger picture for us; maybe one day we will be able to put some of these animals back into the wild.
Difference
"People can make a difference through small things like recycling or making donations."
Everyday with the animals is different for Allan, with the keeper sometimes left embarrassed by his animals friends.
"There have been some funny times," explained Allan, "some embarrassing things. When you feed them the Lemurs climb all over you and one day I had a few on me, unfortunately my belt was not tight enough and my trousers fell down in front of about 30 people listening to our talk."
Allan often finds himself in demand with local groups and Women's Institutes to tell them about his work and his travels, with an event at Lisburn Golf Club planned soon. However, it is his animals charges that are the highlight of his work.
He concluded, "You get attached to the animals, it's like if you have pets. Sometimes our animals get sent to other zoos and you get a bit too attached, but I wouldn't change my job for anything."
* You too could have the chance to be a keeper at Belfast Zoo, thanks to Kelloggs. Kelloggs are currently offering a two for the price of one offer at Belfast Zoo on every cereal pack, as well as the chance to win the opportunity to be a zookeeper for the day. For further information on the offer, look for the details on a variety of Kelloggs cereal packs.
stacey.heaney@jpress.co.uk