by MARY MAGEE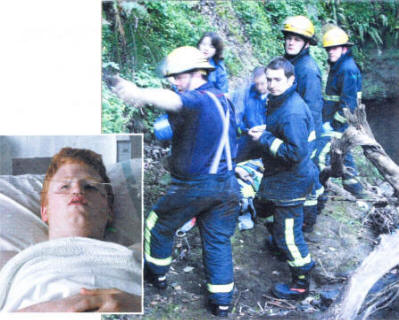 THE POLEGLASS father of a 16-yearold boy who fell 100 feet down a ravine at the Colin Glen Forest Park at the weekend says his son is very lucky to be alive.
Donal Collins' son Cillein, from the Colin Glen Road, was out walking with friends on Saturday evening when he suddenly disappeared.
He had slid off a brick and landed beside the river-edge but it happened so suddenly his eight friends could not find him and had to ring his mobile.
His friends then called for help and when his father, who works as a taxi driver, heard about his plight rushed to his son's side until the emergency services got to him.
Donal said: "It just goes to show what happens to someone if you are not being careful, it is a lesson to us all. As I sat with him waiting for the emergency services to arrive Cillein was very frightened. There is no doubt that he is very lucky to be alive. When they got to him he was so grateful to be rescued.
It took the Fire and Rescue teams, paramedics a police helicopter two hours to rescue Cillein.
The problem was getting near him because of the density of the trees. The PSNI helicopter was dispatched to the area and flew overhead to provide scene lighting for the rescue teams and paramedics.
"Cillein could have been killed. He was very lucky to be alive and just to have some injuries," said Donal. Cillein, a pupil at La Salle school, had to do his GCSE PSHE exam from his hospital bed on Tuesday and may have to do the remainder of his GCSE exams at home.
His mother Janette said she was just glad that her son was well on the road to recovery.
"Obviously someone was watching over him," she said.