by STACEY HEANEY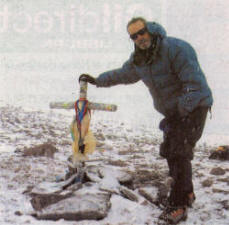 Ed at the summit of Aconcagua.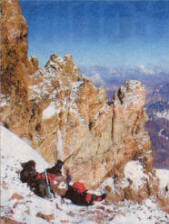 The spot where Ed had his horror fall
DRUMBEG man Ed Smith got safely home this week after surviving a 100 foot horror fall from the summit of a mountain in the Andes.
Ed, 56, is still recovering after the incident which left him unconscious after falling near the top of the 23,000 foot high peak in Argentina.
The former journalist sustained head injuries in the fall on the mountain which had claimed the life of a climber just the week before.
Ed had travelled td the Andes to take on the challenge of one of the world's highest mountain ranges with a group of fellow climbing enthusiasts and had reached the top when the expedition took a turn for the worse. Ed explained, "I had been out there nearly three weeks to acclimatise and we then tackled the mountain, Aconcaga, which is on the Argentine/Chilean border, the weekend before last. "The Andes are regarded of one of the medium mountains in the world so it is quite an undertaking. I have an interest in remote places but this was a step up from what I had tried before," he added.
Ed had travelled to the region with Saintfield man Robbie Wright in a multi-national group. He continued, "We were with local guides, which was lucky as they were very good. Their local knowledge was fantastic. One of the guides, Papi, had been up there 20 times so that knowledge helped a lot in the situation."
After a gruelling seven and a half hour climb, Ed was at the summit of Aconcaga but as the group was beginning their descent he found himself in serious trouble.
Ed Smith now back home after suffering head injuries in a fall while descending from a peak in the Andes. US0708-127A0
"We were on the canaleta, a corridor of rock and ice off the summit, when my crampons caught on something and I somersaulted down the mountain," he recalled. "I think I fell 100 foot down a slope. I knocked myself out and I was out for about a minute, but luckily the guides were down very quickly.
"I knew instinctively I was ok but there was a lot of blood due to the head trauma so I was tied on a rope to one of the guides who walked me down."
The group's ordeal was far from over however, as a heavy snowfall made their journey down more treacherous.
He explained, "We were aiming for Camp Colera, which is the highest camp on the mountain at 20,000 foot. It took us five hours to get there as it was snowing quite heavy, but I was pleased to see it. I kept having visions of it through the snow and then I'd realise it was just a rock formation but we would rest and the guides gave me water and something to keep my energy up as I was very tired. "The guides were very worried as a 30-year-old climber with the group before us had died of accute mountain sickness. He had gone to sleep at the camp and his girlfriend found him dead the next morning. Robbie sat with me all night to keep an eye on me."
The next day Ed was able to be properly assessed as he arrived at base camp, where his wounds were cleaned.
He said, "I looked a lot worse than I was, they cleaned a lot of blood away and I only needed one stitch but because of the head trauma they were still anxious so I got a helicopter out to Mendoza. which is the nearest big town. I was in hospital on Monday where I had a precautionary CT scan and saw a neurologist.
"I've been left with a little bit of vertigo but they expect it to go away."
Ed's wife Lorna and daughters Elinor and Kate were left with an anxious wait at home.
"The internet connection wasn't working so they were quite worried not knowing what was going on. This is a very selfish pursuit, if things go wrong it affects my family so perhaps I will take on some other challenge in the future.
"Right now, I am just glad to get home."