by STACEY HEANEY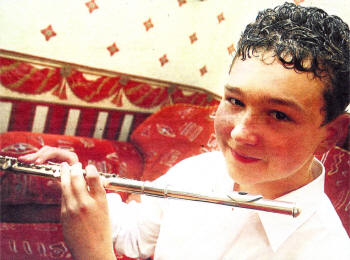 Adam Higginson who achieved a Grade 8 distinction in Band Flute. US3208-117A0 Picture By: Aidan O'Reilly
LISBURN boy Adam Higginson hit all the right notes with his examiners when he achieved a Grade 8 Distinction in his recent music exam, becoming his teacher's youngest pupil to achieve the grade.
Adam, (13), a pupil with Brian Houston, received the distinction in his exam for the Concert Flute from the Associated Board of the Royal Schools of Music, London, and will now go on to study for his Diploma. The Fort Hill College pupil, who will have been studying the instrument for just four years in September, has also been successful at various music competitions and festivals.
His proud mum Behra commented, "We are very proud, to get a Distinction in Grade 8 is something else. It is such an achievement, but he has worked so hard to get it."
Adam's music teacher Brian Houston said, "Adam is the youngest pupil I have had obtain this grade. Usually students are older teenagers, 18 or 19, or perhaps 16 or 17 but Adam is three years ahead of himself.
"He has progressed really rapidly and has done well in various festivals including the Holywood Music Festival where he won solo flute competitions."
Brian, who also teaches at the Lisburn School of Music, continued, "Adam has a real natural ability. He is a very ardent student and is now going on to do his diploma. There are three levels of diploma and in three years I would expect him to have them all, the other diplomas after that are beyond my scope."
He concluded, "Adam works tremendously hard at the instrument, he is diligent and hard working and is constantly practising. He is a very competent young flautist and I hope to see him take it up as a career."
stacey.heaney@jpress.co.uk