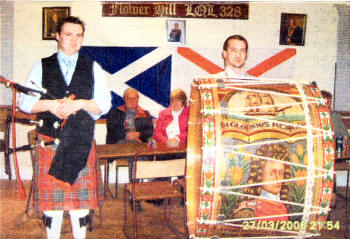 Shamrock being drummed to the tables.
HILLHALL Cultural Society held a very successful Ulster Scots meets St. Patricks night on Friday March 14.
The Shamrock was drummed in by Allen Lockhart on the Lambeg drum and piped to the tables.
The guests were entertained to Irish and Scottish music and a hearty supper of Irish stew and apple tart.
All ages attended and they thoroughly enjoyed the entertainment provided by Jon's Sound. The evening concluded with the singing of Flower of Scotland.
Members are reminded that a drumming match will be held at Flowerhill Orange Hall on Saturday April 12 and a trip is arranged to the Boyne Heritage site on April 26. Some places are still available.