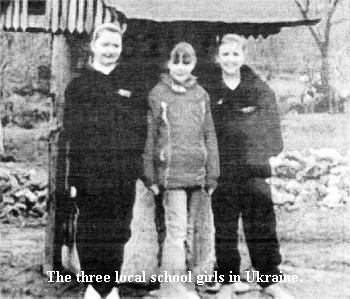 THREE Lisburn school girls have helped put smiles on the faces of orphans in Ukraine. In January the Star reported that Charit Graham from Downshire PS, Sarah McComb from Harmony Hill PS and Shona McComb, a pupil at Friends, accompanied by their mothers Rachel Graham and Averil McComb - members of Ballynahinch Baptist Chum'. were going to the Nove Sele orphanage or Easter to run a children's Bible club and he arranged to send a container load of human. tarian aid.
The team had a fantastic week, spending five hours each day working with the children in the orphanage, assisted by E. Ukrainian team, leading singing, crafts sports and bible stories.
Team Leader Rachel Graham said: "The children really enjoyed all the activities many of them trying things they had new done before.
"Although the conditions the children lip in fall far short of what our children are use to, the thing that really impacted us most the fact that through long term institutionalised care they have very low self esteem and those who care for them have low expectations of them."
S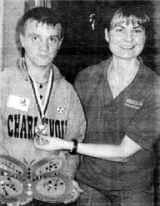 he continued: "The three girls found the whole experience extremely rewarding as they were able to interact with the children in their activities and see a real transformation in the children's realisation of their own self-worth."
Rachel thanked local people for their great support. She said: "As a result of the overwhelming generosity of the local people two lorries were required to deliver the aid rather than the one originally planned. The transport was generously provided by Dixon Transport and Keenan Transport."
She explained that the lorries left Northern Ireland over the weekend of March 8, arriving at the Poland Ukrainian border the following Wednesday but were forced to wait for two days at the border crossing and eventually arrived at the orphanage at midnight on the Friday night, less than five hours before the team's planned departure. All the aid was immediately offloaded and placed in storage at the orphanage under customs seal awaiting final clearance from the Ukraine Council of Ministers.
The Pastor of Ballynahinch Baptist Church will be visiting the Novo Sele area at the end of April and will be able to check on the distribution of the aid. The team hopes to be able to make future visits to follow up and continue to build relationships with the children and staff.
Anyone wishing to find out more about the trip is invited to a Ballynahinch Baptist Church this on Sunday April 27 at 10.30am, when members of the team will give feedback during the service.