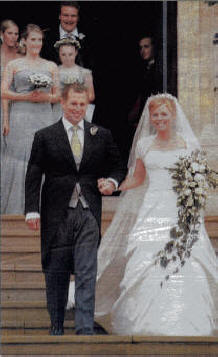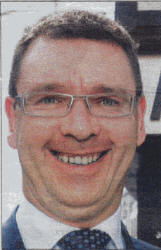 A LISBURN jewellers played a very important role in the wedding of the Queen's eldest grandson.
Bow Street firm Midas Jewellers was given the honour of providing the platinum wedding hand especially commissioned by Autumn Kelly for her new husband Peter Phillips.
Jim Conlon owner of the jewellers said he was thrilled to be given the important job.
"It was an honour to he invited into the young couple's home and entrusted with such an important role in their wedding plans. It was particularly important for me to ensure that Autumn and Peter enjoyed the experience of choosing Peter's wedding band and so it was a pleasure to see them sharing a rare moment of calm out of their hectic schedules."
It was through a mutual friend that Jim was put in touch with the couple.
Jim explained: "My friend Victoria who is originally from Hillsborough used to work with Peter for the Williams racing team. When Autumn told her that she still hadn't chosen a ring for her future husband, Victoria mentioned me and put us in touch via email. For the first few days I didn't have a clue who Autumn was." The Lisburn business man flew over to meet with the couple in their Kensington apartment and showed them a selection of rings.
"Peter selected a five millimetre platinum court wedding ring and then I had to get it made from scratch as the jewellers who originally measured his finger, had told him the wrong size. I rushed the order through and it was ready within the week. It is a very heavy ring," said Jim.
He continued: "I then flew back over to give it to them a few weeks ago. Autumn was relaxed and just delighted to get everything sorted."
The excited .pair were so happy with the ring that they asked Jim to supply some personal gifts, from Peter, for their chief bridesmaids who included Peter's sister Zara, the Queen's granddaughter.
"I went out for dinner with them and Victoria and they couldn't have been happier. They are very down to earth people with no airs or graces," said Jim.
"It is always a privilege to be asked to help and advise a couple when choosing their wedding bands as it is such an important part of their special day and a symbol of their commitment to one another.
"Everyone's experience of choosing their wedding band should be special - this has always been paramount at Midas Jewellers. We normally' never divulge information about our clients but the couple said that it would be made public anyway by the magazine that was covering the wedding."