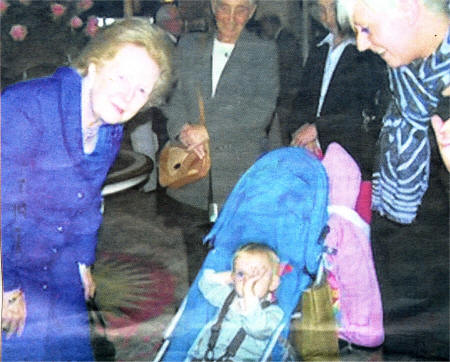 Lily's great grandmother Rita and Great Auntie Brenda. Front Row, Baroness Thatcher, Lilly and her Mum Emma.
A BALLINDERRY baby has managed to melt the heart of the 'Iron Lady'.
Last week little Lily Crothers was in London with her mother Emma for her great-grandmother's 70th birthday celebrations. The family surprised Rita Jupp with a tea party at the Ritz Hotel to mark the special occasion.
Passing a Rolls Royce parked outside the front of the hotel, the birthday party made their way into the foyer and were astounded to meet Baroness Thatcher just leaving.
As they moved aside to let 'The Iron Lady' and her party through, Mrs Thatcher made a bee line for baby Lily and started chatting to the family.
Proud grandmother Karen Hymers asked if she could take a picture.
Mrs Thatcher lent towards Lily and said 'now you and I have got to look at that camera and smile' to which Lily gave a wave, right on cue.