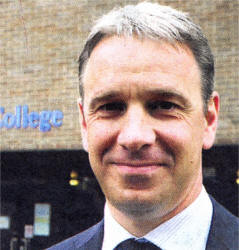 THE new Principal of Hunterhouse College says he is confident about the school's future and ability to adapt to change.
Speaking at the recent prize day Mr Andrew Gibson also paid tribute and gave thanks to his predecessor Mrs Maureen Clark. He said that since arriving at Hunterhouse it has been easy to ascertain that the school has been "well led and well managed and that most importantly delivers a quality education for all girls".
He continued: "An effective and successful school is one that
adds value both in terms of the academic progression of its pupils and in how it develops them as individuals both inside and outside of the classroom and this is the legacy that has been left."
Talking about the future Mr Gibson said that it is not an exaggeration to say that the education system as a whole is in the midst of a period of "unprecedented and rapid change" and that the environment in which schools have to work is in many ways "characterised by unpredictability".
| | | |
| --- | --- | --- |
| | | |
| Prizewinner Joy McCandless. US3808-107A0 | Alaa Bowden with her cups. US3808-108A0 | Hunterhouse Prizewinners Hayley Bowes, Alison Scott and Lauren Jones. US3808-106A0 Picture By: Aidan O'Reilly |
He said: "But of course change also brings with it opportunity and the school is, I believe, well placed to respond to this.
"In the short time I have been in Hunterhouse I have been highly impressed by many aspects of the College's work; by the high standard of learning that is evident in classrooms, by the willingness of teachers to reflect on their classroom practice and by the quality of relationships," he added.
Mr Gibson said he is confident about the future because part of the ethos of Hunterhouse is about embracing change and doing so proactively.
"There is already a culture of self-evaluation within the school and this has ensured and will continue to ensure that learning remains relevant, enjoyable and productive' he said.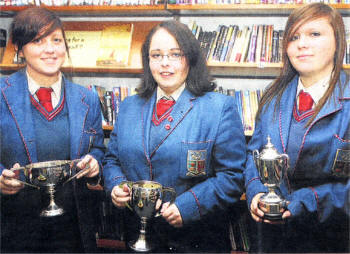 Hunterhouse Prizewinners Gabble Moore, Samantha Keenan and Adelle Armstrong. US3808-105A0 Picture By: Aidan O'Reilly