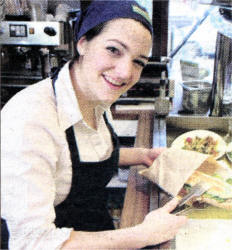 THE owner of a take-away cafe on the Upper Lisburn Road, has been selected as a finalist in the prestigious Advantage NI Young Entrepreneur of the Year Award.
Inspired by a spell living in Sydney, Australia, where low-fat healthy food outlets can be found in abundance, former Irish Athletics champion Ruth Little opened Rollo Polio Kitchen, to cater for what she saw as the gap in the market for freshly prepared, healthy take away options in Northern Ireland.
"I spent a lot of time doing warm weather training in Sydney," explains Ruth, "and after the sessions I was always able to pick up some healthy take away from one of the many fat free fast food outlets near the track. I remember at the time thinking 'I wish there was somewhere like this at home'. I knew I would be a committed regular if there was."
On returning to the UK Ruth went to Nottingham University where she tried to source healthy eating establishments similar to the ones she frequented in Sydney.
"I was shocked to discover they didn't even exist in a large city like Nottingham," she says. "If I didn't want to cook, there was nowhere to get convenient, quick and tasty food that was still healthy, so I decided then that I would just have to open my own place." After completing her studies Ruth returned to Sydney to gain work experience in her favourite health food takeaway which she hoped to use as a model for her own venture. Then, 18 months ago, she returned to Northern Ireland with plans intact to import a specialist Australian-made chicken rotisserie, and set up Rollo Polio.
"Although I gained invaluable work experience in Sydney, I didn't actually know how to set up and run a business," Ruth says, "so as soon as I got back from Australia I contacted Invest NI who recommended their Start a Business programme. The course was absolutely invaluable and I don't think the business would have progressed so quickly or developed so well without that initial help."
So what does she think of her nomination for Young Entrepreneur of the year? "I'm deeply honoured and incredibly flattered, but most of all I'm just so thrilled that my concept of healthy fast food has been so welcomed. We have built up a strong loyal customer base which is expanding by the day. And it isn't just sports people or committed health enthusiasts who come to Rollo Polio, we also attract families, young professional people who live alone and don't want to cook for one, teenagers and older people too. And we do get a lot of local celebrities coming in too, from sports stars to media personalities."
* If you have an idea for a business, the Start A Business Programme can help you, just as it helped Ruth. Call 0808 127 0000.