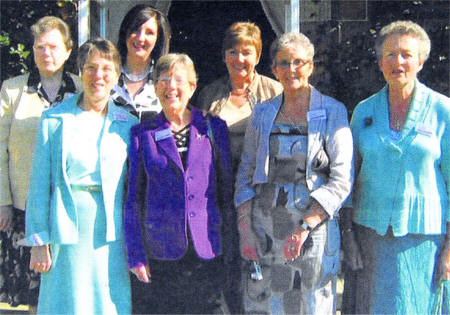 Some of the Save the Children Lisburn branch committee members who were presented to Princess Anne at a recent reception at Hillsborough Castle. From I - r Elizabeth Hendron, Maureen Hughes, Mandy Wilson, Joan Gough (Chairman), Liz McKnight, Hilda Suffern and Mary Donnelly.
MEMBERS of the Lisburn branch of Save the Children were recently presented to Princess Anne, patron of the charity, at the Save the Children Volunteer Day at Hillsborough Castle.
The Princess Royal was the special guest at a reception at Hillsborough Castle, where she was greeted by the Vice Lord Lieutenant of Co Down, Mr David Lindsay.
During a buffet lunch the royal visitor met around 25 corporate supporters, including 'Master of the Musicals' and long-time Save the Children supporter Peter Corry.
Later she was introduced to some of the volunteers who run the charity's six shops and 23 branches in Northern Ireland, including the Lisburn branch.
It was part of a hectic round of engagements carried out by the Princess during a one day visit to Northern Ireland.