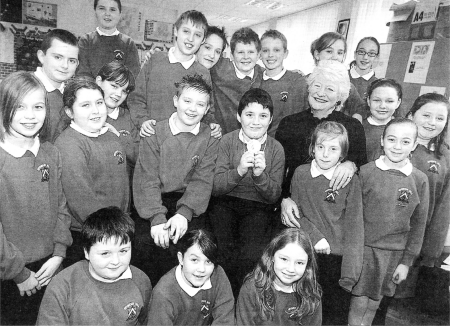 Dame Mary Peters pictured with children at Seymour Hill Primary during her visit to the school. USO407-118A0
THERE was a special visitor to Seymour Hill Primary School recently when staff and pupils welcomed Dame Mary Peters to the school as part of their Comenius Project.
Pupils in the Year 7 class had written a letter to the former Olympic Gold Medallist before Christmas inviting her to visit the school and talk with the children about her past and present career as an athlete.
This is the third and final year of a Comenius project, which involves Seymour Hill working closely with schools from Denmark, the Czech Republic and Spain.
The project has concentrated on traditional games and sports. healthy lifestyles and this year, local sports people from the respective countries so it was quite a coup for the local pupils to welcome a sporting legend to their school.
During her visit Mary visited each class, showing the children her gold medal from the Olympic Games in 1972. She then showed the children a short film clip of the 1972 Olympic Games, before the children had a chance to ask her questions that they had prepared.
Having Mary visit the school brought a sense of reality to the Comenius Project which the pupils of Seymour Hill Primary School can now share with their partner schools across Europe.