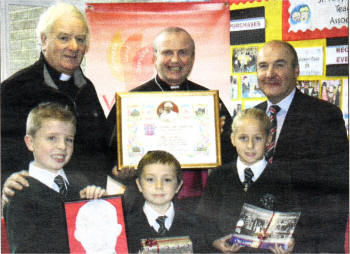 THERE was a special visitor at St. Aloysius Primary School last week when the Most Rev Donal McKeown, Auxilary Bishop in Down and Connor, joined with the pupils and staff to celebrate the school's 40th Anniversary.
During his time in the school Bishop McKeown visited each classroom, presenting every child with a memento of their special day.
Speaking about his visit he said: "It is a real pleasure for me to be here and to sense the atmosphere, the confidence and the pride that St Aloysius has in just being itself. The strong link with the parish is a key pillar on which the past and future of the school community are built."
To conclude his visit Bishop McKeown presented Principal Patsy McClean with a specially commissioned Papal Blessing commemorating the school's 40th Anniversary.
In his acceptance of the Papal Blessing Mr McClean thanked the Bishop for his visit.
"It is a great honour to welcome Bishop McKeown and to accept this Papal Blessing on behalf of the whole St Aloysius school family," he said. "His kind words are a tribute to the hard work of all those associated with our school over the past forty years and to the contribution and achievement of all the pupils we have been privileged to educate over this time."