Arnold prepares for desert trek to help Marie Curie
CONCERT TO HELP RAISE FUNDS FOR CHARITY CLOSE TO LOCAL MAN'S HEART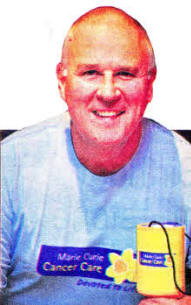 A HILLSBOROUGH man will put his best foot forward for charity when he sets off on a once in a lifetime adventure next year to raise money for Marie Curie Cancer Care - a cause very close to his heart.
Accountant Arnold Wylie has worked tirelessly in recent years to raise money for various cancer charities after being diagnosed with lymphoma in 2002. Arnold, who will be joined on the trek by his brother Lawrence, has another very personal reason for helping the charity.
"My father who was also a chartered accountant, had been my business partner for many years prior to his retirement in 1990, died of leukaemia nine months prior to my diagnosis," explained Arnold.
"With that background I wanted to do something to give a little back to the people who had helped me and when I saw a poster advertising a fundraising trek in aid of Marie Curie in the Jordanian Desert it struck a chord. So I have signed up and for good measure, have persuaded my brother to do the same."
The brothers will spend three days trekking 50kms in the baking hot desert next April, starting at the ancient rose red city of Petra, the setting for some of Indiana Jones and the last Crusade.
Arnold is aiming to raise £10,000 for the charity and as part of his fundraising campaign he has asked well known musician Brian Houston to stage a concert in Hillsborough next week.
"Brian is one of our most popular and gifted singer songwriters and as this will be one of his last concerts in Northern Ireland before he heads out to live in the USA for a while early next year it will be one of the final opportunities to see him in concert locally for some time" said Arnold.
Arnold is hoping local people will support this worthy cause and at the same time enjoy an evening of fantastic music.
Tickets for the concert, which will be in Hillsborough Village Centre on Friday November 27 at 8pm, are priced at £15 and are available by contacting Lesley Wright at Marie Curie Cancer Care, Regional Fundraising Office, Belfast on 9088 2046. There will be some tickets available at the door on the night, however Arnold is hoping this will be a popular event so is advising everyone to get their tickets early.
julieann.spence@ulsterstar.co.uk
Ulster Star
20/11/2009