F1 team drives up support for the soldiers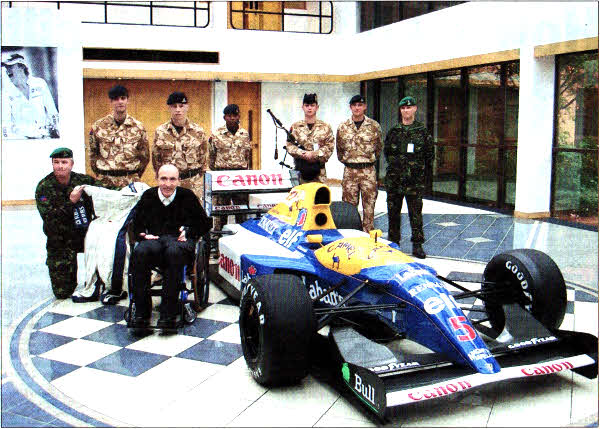 Soldiers from Thiepval Barracks visited Williams Fl headquarters, met Sir Frank Williams and saw Nigel Mansell's racing car. Left to Right Forefront -Sgt Will Bennett AGC (SPS), Sir Frank Williams. Left to Right Background - Gunner Aaron Carmichael, Gunner Martin Barker, Gunner Matthew Chipande, LBdr Allan Summers, Gunner Christy Roberts and W02 (SQMS) Colin Morrison. US4309-
LISBURN based soldiers who have been working to arrange a big welcome home for colleagues who have been serving in Afghanistan and their families have visited the HQ of top Formula 1 team Williams - and come home with a racing suit signed by leading driver Nico Rosberg.
Members of 40th Regiment Royal Artillery (The Lowland Gunners), who are based at Thiepval Barracks, made the trip to Williams at Grove, Oxfordshire after a chance meeting by WO2 Gary Griffiths whilst he was fundraising in London and a subsequent telephone call to Claire Williams at Williams Fl.
The visit was organised by Sergeant Will Bennett, who along with the Welcome Home Committee made up of members of the Rear Operations Team, have been working hard raising money to stage a suitable home coming for all the local troops and their extended family, to thank them for all the hard work and sacrifices that they have made on Operation Herrick10.
"We explained to Claire exactly what we were trying to achieve and that we sorely needed assistance in achieving our aim," explained WO2 Griffiths. "The Williams Fl Team took up our cause and were only too pleased to assist. Claire offered the signed racing suit belonging to Nico Rosberg that he wore at the recent Singapore Grand Prix. Nico is the Williams Fl Team number one driver and is the son of Keke Rosberg.
"This suit is to be auctioned to assist in raising funds for, the Welcome Home Ball."
In addition Claire offered a visit to the Team Headquarters for the soldiers returning from Afghanistan and the chance to meet Sir Frank Williams, the legendary founder of Williams Fl. Speaking after the visit WO2 Griffiths said: "We all felt privileged to have had a wonderful opportunity to visit the Headquarters and factory in addition to having the honour of meeting Sir Frank Williams. We had a truly great time and have a much better insight into what happens in the background and the huge effort that goes into making a Championship winning Fl car."
Ulster Star
23/10/2009