Classic Ferguson tractor on display at charity show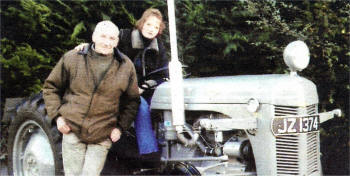 GLENAVY and District Vintage Club will be holding their Annual Charity Indoor Show in the Trummery Sales Arena, Moira on Friday March 6 from 4-9pm and Saturday March 7 from 10am-4pm when Cyril Gardner from Ravarnet will be displaying his 1948 Ferguson TE20.
Cyril bought the TE20 in poor condition in 2006 and spent 18 months restoring it to its present immaculate state. To keep the tractor original, most of the parts required during the restoration were purchased in Scotland. The indoor show will include a display of old tractors, vintage cars, lorries and motorcycles. A range of new tractors and machinery will be on show, and a good variety of items are expected to be available from the auto jumble stalls.
Proceeds from the show will be divided equally between Macmillan Nurses and Cancer Reseach.
Car parking at the event is free. Admission for adults is £5, OAP £3 and children are free. The Trummery Sales Arena and Parking Area is about one mile from the M1 Moira roundabout, going towards Lisburn. The use of this facility has been kindly granted, free of charge, by R.A. Noble Auctioneers.
The main sponsor for this year's event is Saville Machinery and Motorhomes, Hillsborough, the local Case International Tractor Dealer; they will be featuring a display of new Case International Tractors and older models of Case International Tractors. For further information please contact the Club Secretary Mark Anderson on 07749 211 818 or the Assistant Secretary Mark Ross on 07879 876 926.
Ulster Star
27/02/02009