Curtis nets a dream with superstar show at Windsor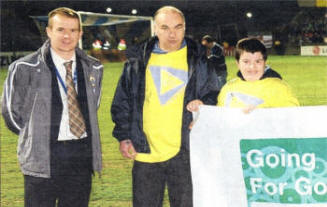 LISBURN boy Curtis Todd was 'going for goal' when he paid a special visit to Windsor Park last week to see Northern Ireland take on Slovenia in their World Cup qualifier.
12-year-old Curtis, a pupil at Parkview School, won a ballot which saw him fulfil his football dreams as he and his dad Richard got to enjoy a pre-match meal at Windsor Park, watched the game and — at half time — joined young people from Mencap and the Prince's Trust to carry the 'Going for Goal' banner around the pitch, to applause from the sell-out crowd.
The event, which was organised by 'Going for Goal' the IFA's charity partnership with local learning disability charity Positive Futures, Mencap and the Prince's Trust, has made Curtis a Northern Ireland fan for life. Dad Richard said: "Curtis had a really good day, he was delighted. He enjoyed the match and sat cheering away, and then when he went on to the pitch he thought he was a superstar."
Richard added: "Curtis went back to school and told all his friends about it. He even bought a shirt after the match, so they have a fan for life."
Richard concluded, "I'd like to thank Positive Futures for sending Curtis to the match. Everybody was really good to us." During the visit to Windsor, Curtis carried the Going for Goal flag and waved it to the fans, including a group from Lisburn who came to see his moment of fame.
On the pitch Northern Ireland had a hard fought win. This made it a perfect night for Curtis and mirrored the determination of Positive Futures to see people with a learning disability involved in the community on the same terms as everyone else.
stacey.heaney@ulsterstar.co.uk
Ulster Star
10/04/2009