Major facelift on the cards for Dairy Farm Centre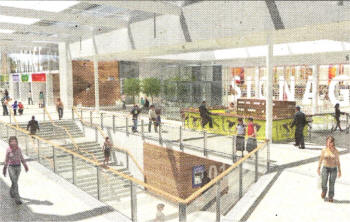 A proposed multi-million pound redevelopment of the Dairy Farm Centre in Twinbrook is expected to create 300 jobs.
JP Properties, which owns and operates the Dairy Farm Shopping Centre, has submitted a planning application and has begun a round of consultation with political and community representatives informing them of the details of the scheme.
Plans for the new centre are going on display in the Centre and local residents and shoppers are being invited to view the plans.
Centre Manager, Sean Toal said their plans are aimed at meeting the demands of local shoppers. The Dairy Farm Centre is located in the middle of an area with a large end growing population" he said.
"Our plans are aimed at meeting the demands of local shoppers in a way which involves significant financial investment, provides additional employment and will _lead to a new landmark shopping and community facility which will help to transform the wider Colin area.
"All of the existing tenants at the store have been kept up to date with the plans and through our expansion programme we will be increasing the retail offering to shoppers. We have been in contact with two major supermarkets and there is already very strong interest in basing a new flagship store at the centre."
He said the development plans are designed in a way which complements and contributes to the existing physical layout of the Stewartstown Road and surrounding area.
Outline plans will be on display within over the coming weekend.
Ulster Star
08/05/2009