Girl whose smile lit a thousand rooms is latest road victim
DANIELLE LOSES HER LIFE JUST 11 DAYS AFTER 19TH BIRTHDAY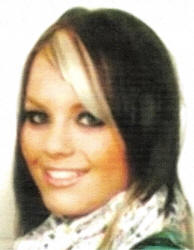 THE grief-stricken mother of Kinallen teenager Danielle Houston, killed in a road accident last week just 11 days after her 19th birthday, has paid a moving tribute to her the young woman who was her 'precious child' and her 'best mate'.
Danielle, of Skeagh Road, lost her life when her Renault Clio left the road close to the Katesbridge Road/Enagh Road junction last Wednesday evening.
In a heart-rending farewell to her daughter, Danielle's mother, Michelle, gave thanks for the wonderful day they spent together with 'Nanny Betty' last Wednesday before tragedy struck that evening.
Unable to believe Danielle was gone she said she was still waiting for her to come home and tell her about her night.
"Nanny Betty and I are grateful for our wonderful day" said Michelle. " You were not only my daughter, you were my best mate.
"You taught me many things in your short time of life and you were so beautiful. Your smile lights up a thousand rooms; your eyes are big, blue and beautiful and you never realised how beautiful and perfect you are.
"I am waiting to be woken; I wish I could trade places with you. Mummy's hurt will never end and I promise you won't be forgotten; I won't allow it. Sleep tight angel."
Her best friend, Claire Carmichael, who grew up alongside Danielle for 15 years, said life would be empty without her.
"Danielle was the best friend anyone could ask for," she said. "She's the wee sister I never had and we grew up together for 15 years; if people knew me, then they knew Danielle and vice versa.
"She was an amazing girl with a beautiful smile."
Danielle, a former Dromore High School pupil went on to study beauty therapy at Lisburn College and her ambition was to be a make-up artist. She worked for Gillian Parks at her Dromara hairdressing salon. Their working relationship quickly became a firm friendship, said Gillian.
"I watched Danielle grow into a beautiful young woman who had the biggest smile, that lit up the whole salon" said Gillian. "Every time I look at the reception desk I can picture her with her big smile and she will always be in my heart and always remembered."
In accordance with Danelle's wishes, her funeral on Monday took place at Roselawn Crematorium and mourners were asked to wear some pink - her favourite colour - or white in their clothing.
Danielle is survived by her mother Michelle and her partner Malcolm, her father Stephen and his partner Jolene, her half brothers Alfie and David and half sister Carmen, grandmothers Iris and Betty, grandfather Billy and uncles, aunts and cousins.
Ulster Star
10/07/2009