Dynika's dancing feet raise £400 for church
by MARY MAGEE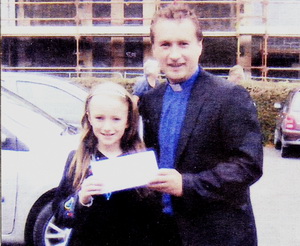 A TEN-year-old from Lisburn has raised £400 for the Christ Church Building Fund after organising her own Danceathon. Dynika Lowry, from Windermere, took part in the Irish dancing event which she arranged herself at the Bog Road Social Club on Friday.
Dynika got her inspiration for the fundraising when she holidayed in Portstewart during the summer. While there she met and spoke to people who had given up two weeks of their holiday to take part in mission work.
The local lass, who attends Longstone Irish Dance Class and Gillian Jones Tap and Modern at Wallace Park, was so impressed by what she heard that she decided she wanted to do something for her own church.
So with help from her family and friends, many of whom sponsored Dynika, she organised a danceathon and danced non stop for half an hour.
She then presented the cheque to the Rev Paul Dundas of Christ Church.
Her mother Lynn said: "It was just something that she wanted to do and we are really proud of her."
Dynika said: "I just love dancing so on Friday August 28 I completed my task which was a pleasure to do.
"I raised £400 and I presented the money to Rev Dundas on Sunday August 30. I would just like to thank everyone who sponsored and helped me complete my danceathon ."
mary.magee@ulsterstar.co.uk
Ulster Star
04/09/2009