Women ready to tackle a grizzly challenge
Local ladies ready to trek through Canadian Rockies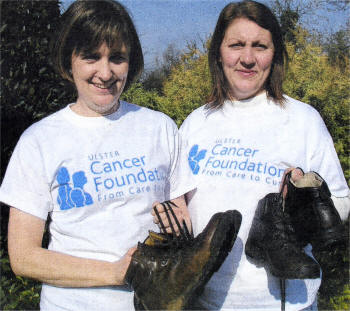 THE prospect of being confronted by a grizzly bear has not proved enough to deter two devoted fund raisers trekking the Canadian Rockies in September for the Ulster Cancer Foundation.
Barbara Kennedy and Allyson Morrow, who separately have raised thousands for various charities, are getting ready to head to the famous mountain range...during grizzly season. Barbara from Ballinderry and former Lisburn woman Allyson will make the nine day journey starting at Carrmore, before heading to Lake Louise and finishing at Banff National Park. Barbara and Allyson have to raise a minimum of £2,800 each to secure their place. All money will go towards the Personal Everest Project which funds two elements of a new support programme - a tailored fitness programme for cancer patients.
Thirsty for a challenge Barbara, mother of two sons, took part in the Great Northern Run for the UCF and when she heard of the Canadian Rockie challenge decided she wanted to give it ago.
"My two sons are very supportive of what I do. They just say 'here we go, another crack pot idea'. They are used to it," she said
"I know how hard it is to raise money for charity, especially at a time like this, but supporting something like this is very worthwhile and gives you a great sense of achievement." Barbara and Allyson has been advised to take part in 2/3 fitness sessions a week and by the summer they need to be training daily.
"We have to follow the regime because you want to enjoy the experience you don't want to struggle," Barbara said. "We'll be walking up to eight hours a day so you need to keep up." Barbara, who has raised most of her £2,800 though raffles, selling lunches and from friends, offered to run the Belfast Marathon too.
Allyson, a mother of three who raised a staggering £9,500 for Action Cancer last year as part of her Borneo trek, took part in the Belfast Marathon three years in a row for mental health charities.
"I always like to keep fit so raising funds for charity while doing it is an added bonus," she said.
Allyson, who is cheered on by her husband Stephen, sons Stuart (20), Bill (13) and daughter Abbi (11) has a host of fund raising ideas to reach her £2,800 target. She plans to take part in bag packing at Tesco and would like to organise a summer barbeque at her house. Last year she raised £3,500 alone from that event.
"People were just so generous and I hope that will continue," she said. "My son's football team Lurgan Town FC donated money and my girl Abbi did a dance routine at the cul de sac where we live and went round the doors. Everyone just wanted to help."
Joyce Savage, Head of Appeals and Marketing, Ulster Cancer Foundation said: "There is no doubt that this will be an extraordinary and rewarding experience and we congratulate both of these ladies on their determination and commitment to helping improve the lives of local people and their families who have been affected by cancer."
Ulster Star
10/04/2009