On the spot fines to tackle dog mess in Hillsborough Forest
Is the Council right or are on-the-spot fines an overreaction? Tell us what you think. Write to 12A Bow Street, Lisburn BT28 1BN or e-mail
Ietters@ulsterstar.co.uk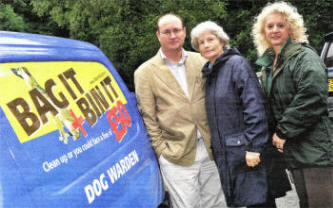 At the launch of this initiative to combat dog fouling in this public facility from (I-r) were Mr Mark Parker, Recreation Officer for the East Region of Forest Service; Councillor Betty Campbell, Chairman of the Council's Environmental Services Committee and Mrs Janis Smith, Property Manager,
Northern Ireland' Environment Agency.
LISBURN City Council, the DARD Forest Service and the Northern Ireland Environment Agency are to step up patrols in Hillsborough Forest Park with the power to issue on-the-spot fines in an effort to reduce the level of dog fouling.
Amidst a rising tide of complaints the three agencies are organising information days from 12-3pm in the Forest from Friday July 31 until Sunday August 2, promoting responsible dog ownership with a strong focus on 'bag it and bin it' for dog mess.
But they have warned they will take action against dog owners who don't heed the advice.
There has been an increase in recent months in the level of dog fouling in this public area owned and controlled by Forest Service and the NI Environment Agency. Now the three bodies have got together to try and tackle the problem.
Councillor Betty Campbell, Chairman of the Council's Environmental Services Committee said: "The Council are responsible for enforcing fines to irresponsible dog owners who fail to clean up after their animal. It is illegal under the Litter (NI) Order 1994 for anyone in charge of a dog not to clean up its mess. "The Council in partnership with the other two organisations will provide more regular patrols of Hillsborough Forest. Council Officers will impose on-the-spot fines of £50 to any irresponsible dog owners. All three organisations are intent on taking enforcement action against anyone caught or noticed by others failing to remove their dog mess. The wardens from all three agencies will be liaising closely to ensure dog owners using the forest do so in a responsible manner respecting the other users of the facility" The three groups will be distributing responsible dog ownership leaflets and free of charge 'poop scoop' bags at the Information Days. Poop scoop bags and information leaflets are also available at the Council Offices at Lagan Valley Island.
Ulster Star
24/07/2009