Royal date for a young Moira man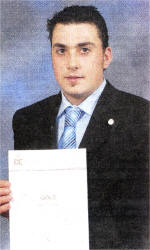 THERE was a Royal appointment for local man Ian Montgomery recently when he travelled to St James's Palace London to receive his Gold Duke of Edinburgh Award.
21-year-old Ian" who lives in Moira" was among a group of 30 young people from all over Northern Ireland who received their certificates from the Founder and Patron of the Duke of Edinburgh Awards HRH The Duke of Edinburgh" in the throne room of St James's Palace on May 19.
The Duke spent some time chatting to the recipients and asked questions about where they had completed their hill-walking and other physical activities.
There are five sections to a Gold Duke of Edinburgh Award programme - Volunteering, Physical, Skills" Expedition and a Residential section. The Gold Award is the world's leading achievement award for young people" recognised by employers and Universities alike.
Ian completed his Volunteering Section of the Award by helping with the Church Lads and Church Girls Brigade at St Matthew's Church Broomhedge. He continues to support the work of the Duke of Edinburgh Award as a hill-walking leader taking groups up the Mournes.
"I would encourage every young person to take part in the Duke of Edinburgh Award scheme as it is great fun 'and offers wonderful opportunities"" said Ian.
Ulster Star
12/06/2009