Harrowing but inspirational
Bernie witnesses life for India's street children
by STACEY HEANEY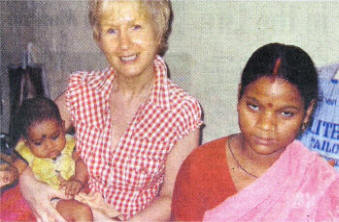 A LISBURN woman has returned from a harrowing but inspirational visit to India to see the work being carried out by a local charity to help the country's street children. Bernie Walsh was able to see how the Hope Foundation, which was set up by Weightwatchers, is helping children overcome some of the greatest horror imaginable.
Bernie, who is the local WeightWatchers leader, and her husband Robert raised £13,818 to enable them to take part in a trek in Goa, before travelling to Calcutta to visit a children's hospital funded by WeightWatchers Ireland, to provide care for Calcutta's 'nowhere children'. There she saw at first hand the horrific injuries inflicted on some of the children in order to earn money.
Bernie said her experience was both "eye opening" and "humbling".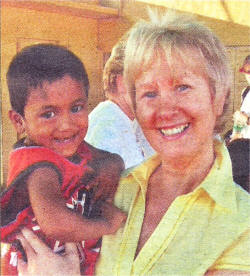 "I expected to be more saddened than I was, but the children are just so happy" Bernie said. "Of course I was seeing the children when they were looked after.'
Bernie is the first representative from WeightWatchers to see the hospital, which the organisation has pledged to fund for the first five years.
Speaking about the welcome she received, Bernie commented, "The hospital is fantastic. I was treated like Royalty when I arrived, they had a banner out welcoming me and I was introduced to every patient there and shown the equipment and the theatres."
She also visited a boys home and a girls home and a rehabilitation centre. And it was while visiting the rehabilitation centre Bernie saw the darker side of life for Calcutta's 'nowhere children'.
"There was a boy with Down's Syndrome and he had had his hand cut off to get more money when they were begging" she said. Bernie also sponsored one of the little boys she met in the boys home, taking a shine to a three year old boy named Surajit whom she intends to keep in touch with and hopefully visit again in the future.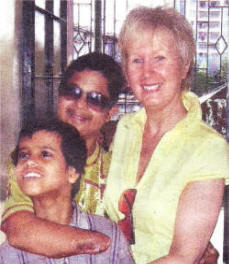 The couple had earlier taken part in a gruelling trek in Goa, where they began walking at 4am in order to escape the searing heat during the day.
"Goa was beautiful," she said. "We did a few beach walks which were very hard, the road walks were easier and as we were walking along we would see children coming out waving and shouting to us."
Regarding the visit Bernie added: "I think everybody should do it at some stage. It makes you appreciate how fortunate we are. "We also went to Mother Theresa's home on Easter Sunday where they held Mass, which was very moving.
"It was a worthwhile and rewarding experience and I would just like to thank everyone for helping me to raise the funds and giving me the chance to go," Bernie concluded.
Bernie with three-year-old Surajit, the little boy she has sponsored. Bernie will sponsor Surajit's education and she intends to go back to Calcutt and visit him in the future. Surajit lives in one of the Hope homes.
stacey.heaney@ulsterstar.co.uk
Ulster Star
29/05/2009