Family mourn the death of 'a fantastic son'
by JULIE ANN SPENCE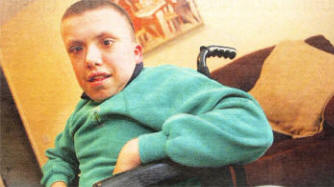 THE family of Lisburn teenager Kyle Conway have spoken of their 'fantastic son' after he passed away at the end of last week following a brain operation at the Royal Victoria Hospital.
Over the last two weeks the Ulster Star has reported how 16-year-old Kyle, who was a pupil at Parkview School, had to wait while the operation was postponed six times.
He suffered from the rare Costello Syndrome and had been waiting to have the operation to remove a section of his brain which had grown into his neck, making him choke when he was eating.
Kyle finally had the operation last Monday, May 18, and everything appeared to be going well.
"He had his operation and he was doing well," explained his father Patrick. "The doctors were happy with how things were progressing.
He had to go back into surgery on Thursday as some of his internal stitches had burst but he seemed to be recovering and even had some potatoes to eat.
"I left at about 10.30pm and his mother got a call about 3.10 the next morning. We rushed down to the hospital but he was gone," continued Patrick.
Patrick and the family are still coming to terms with their devastating loss and have spoken about their 'fantastic son'.
"He was really happy-go-lucky and he had a great sense of humour," said Patrick.
"He loved watching the Chuckle Brothers and Mister Bean, anything with a bit of comedy in it.
"He also loved Playstation games, especially the Tombraider and Narnia games; he loved games that would give him a bit of a challenge.': Patrick thanked the staff at Ward 4E and 4F of the Royal Victoria Hospital for all their hard work.
"I couldn't thank the staff enough," he said. "They did more than enough for us, they did their best. Kyle will be sadly missed."
Kyle's funeral will be held at 10.30am on Saturday, leaving his home for the service at St Marks Church of Ireland in Ballymacash. Following the service Kyle will be laid to rest at Lisburn New Cemetery, Blaris Extension.
Donations, if desired, made payable to Ronnie Thompson Donations Account for R.V.H. Neurosurgery Department c/o 20 Ballinderry Road, Lisburn, BT28 1UF
Kyle is survived by his mother Caroline and father Patrick and sisters Pauline and Tara.
julieann.spence@ulsterstar.co.uk
Ulster Star
29/05/2009