Patricia returns from orphan summer camp
| | |
| --- | --- |
| | |
| Patrica Evans with one of the orphans she was working with in Romania. | Patricia Evans with some of the orphans she was working with in Romania. |
A MAGHERAGALL woman has returned from a Romanian orphan summer camp.
For the third year running Patricia Evans, 45, has served with Livada Orphan Care - an American Christian Charity, which is committed to helping orphans through a blend of Christian social work, humanitarian aid and ministry.
Patricia, a class room assistant, who has three grown up children of her own spent two weeks with the orphans in camp ministeries.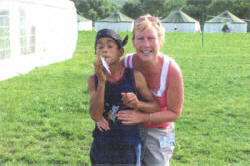 She said: "I have had the privilege of serving with with Livada Orphan Care over the past three years and working in the camp ministry in the Mures County of Targu Mures and Camp Vetca.
"Summer Camp memories are the greatest for the children we serve in Romania and this year was no exception which included Day Ministry in the local gypsy villages.
"For many this is the one week of the year were they will have memories that will last a lifetime.'
Patricia says her church, Magheragall Parish, has been very supportive, as has St Paul's Girl's Brigade, of which she is an Officer.
"I have felt so encouraged and loved by the support of my friends and family, children and my husband David and I would like to thank them all for joining around me and supporting the dreams and passions that God has put in me," added Patricia.
Ulster Star
14/08/2009