Marie Curie Cancer Care introduces their Second
Craigavon Cycle Challenge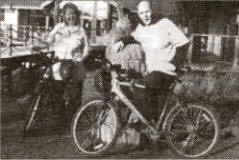 Mark Lima, DJ at Citybeat and Marie Cane Cancer Care's Nursing Ambassador, Martina Kennedy urge you to get pedalling and raise money for the charity by taking part in the 2nd Marie Curie Craigavon Cycle Challenge.
The Craigavon Cycle is taking place on Saturday 9 May 2009, starting and finishing at Lough Neagh Discovery Centre, Oxford Island. All funds raised will help to provide high quality nursing care for cancer patients at home, or in the Marie Curie Hospice, Belfast. Care is provided free of charge.
If you own a bike and fancy a fun day out or a bit of a challenge the Craigavon Cycle is just for you. Whether you are amateurs, professionals, groups, individuals or families we would be only too delighted to hear from you.
There are 2 routes available for participants - 10km and 50km.
The 10km route around the Craigavon Lakes is suitable for family or novice cyclists as it includes level and traffic free sections - mostly on dedicated cycle paths. This is open to anyone aged 8 and over.
If you are more experienced, or would like a challenge, the 50km route would be ideal as it is suitable for cyclists with a range of abilities - aged 16 and over.
The Craigavon Cycle Trail is a ride through the Borough of Craigavon linking inland waterways, the Shore of Lough Neagh and picturesque villages. The undulating countryside of County Armagh offers magnificent vistas of Slieve Croob and the distant Mourne Mountains for those wishing to explore the area. Over 100 cyclists took part in last year's event and their feedback was very positive.
The closing date for this cycle is Friday 1 May 2009, so please register early!
Martina Kennedy says, "It is a beautiful location and I would encourage readers to get out and about. I consider it a privilege to do the work I do but we need more funds to meet increasing demand. We really appreciate the support we receive from the public"
If you fancy taking part in this great event please contact the Events Team at Marie Curie Cancer Care on 028 9088 2069 or visit the Northern Ireland events pages at www.mariecurie.org.uk
---
Create a card for Marie Curie Cancer Care
MARIE Curie Cancer Care is calling on local supporters to buy a handmade card or get creative and make a card, to help provide nursing care for terminally ill people and support for their families.
Each year, thousands of crafters join the Create a Card for Cancer Care campaign. Run in partnership with 'do crafts, the UK website and magazine for crafters, the campaign asks the public to make and donate A6 cards which are then sold in Marie Curie Shops.
To get started, drop in to the Lisburn Marie Curie Shop in Market Place and collect free plastic card bags, one for each card you plan to make. The bags are also available free at all 'do crafts' stockists - to find your nearest stockist, visit www.docrafts.co.uk.
Once you have made your cards, place each one in a separate card bag and post them to the address on the bag by the end of April 2009. They will then be sold in Marie Curie Shops to raise funds for the charity.
This year, 'do crafts' has also created a limited edition set of Papermania clear stamps, which create a great effect when used with ink on your cards. Using the stamps you can make bold imprints of daffodils, daisies and butterflies. The set is available from all 'do crafts' stockists and is £4.99, with £2 from every set sold being donated to Marie Curie Cancer Care.
For more information on the Create a Card for Cancer Care campaign, you can visit www.create-a-card-for-cancer-care.org/.
Ulster Star
03/04/2009