Local doctor offers to ease your pains at new acupuncture clinic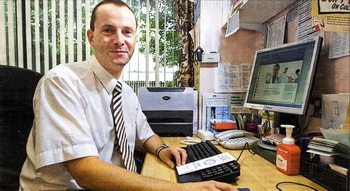 THE benefits of herbal remedies and alternative therapies may be the subject of much discussion in the medical world. But one therapy which seems to come out favourably is acupuncture.
Whilst the results of a recent US study revealed that "almost" no alternative health remedies work, acupuncture was singled out for praise with the report saying that it had been "shown to help certain conditions."
And one local GP who believes in the benefits of acupuncture is Doctor Clive Patterson, who is based in Lisburn Health Centre.
Dr. Patterson has been practising Medical Acupuncture for eight years, and now he is opening a clinic at Hillsborough Private Clinic from September 1 where he will offer the treatment.
Dr. Patterson said: "This is something people have been inquiring about but they haven't had anywhere to go. Now those with chronic conditions can go to a medical practice and have acupuncture carried out by a medical practitioner."
Dr. Patterson continued: "Medical Acupuncture is an effective treatment for acute or chronic problems, including musculo-skeletal pains, headaches, bowel and gynae problems, nausea, fatigue, sleep disorders and stress, skin disorders and general well being."
Because it is difficult to prove statistically that acupuncture works acupuncture is not provided by the NHS, however Dr. Patterson has no doubts about its benefits.
He explained: "It is not provided by the NHS as yet but there are a couple of pilots in England. There are a number of doctors who don't think there are any benefits and there are those who use it and find it very effective."
As Dr. Patterson pointed out, it's hard to carry out blind tests on patients by simulating acupuncture. When you have to insert needles, patients will know.
The local GP, however, doesn't need any convincing.
"The vast majority of people I've worked on have had a positive response and that ranges from my immediate family, my wife, staff at the surgery who have various aches and pains; they have all found relief."
Dr. Patterson will run his acupuncture clinic in Hillsborough each Tuesday morning from 9-30am-12.30pm and Friday afternoon from 1pm until approximately 4.30pm, from Tuesday September 1.
Those concerned about needles shouldn't be worried as Dr. Patterson pointed out that acupuncture is painless.
"Acupuncture is a painless procedure. It consists of a series of very fine needles, which have no risk of infection as they are only used once, which are placed in strategically located positions over the body. A treatment usually lasts 10-20 minutes and results can often be instantaneous, especially in acute problems. Most cases only need 2-3 appointments, and at that stage we recheck the diagnosis and decide with the patient if more treatment is needed or indeed warranted.
"What also helps is that, as a doctor, I have a background in anatomy so I have a knowledge of what lies beneath the surface," he added.
Those interested in attending the clinic can telephone Hillsborough Private Clinic on 92688899 to book an appointment or to get more information about the procedure, as Dr. Patterson will be happy to answer any concerns or queries.
Ulster Star
21/08/2009
Medical acupuncture 'not available' on NHS
A LISBURN GP who will soon be opening a clinic to provide medical acupuncture in Hillsborough has moved to clear up confusion over the availability of acupuncture on the NHS. Following last week's article in the Star, a local reader contacted us to say that acupuncture was, in fact, available on the NHS.
The reader stated: "Acupuncture has been available from the NHS for many years and is currently accessible by patients through referral in Northern Ireland. It is provided by chartered physiotherapists who have been trained appropriately."
However, Dr. Clive Patterson, who will be beginning medical acupuncture sessions in Hillsborough Private Clinic on Tuesday September 1, has said that the treatment is not available to patients on the NHS.
Dr. Patterson commented: "As far as I am aware, medical acupuncture is not available on the NHS. I know that physiotherapists will offer it privately and that the Pain Clinic in the City Hospital did offer acupuncture, however, that has stopped as they couldn't get funding.
"Often, however, what they are offering is called 'dry needling', where they stick a needle in at the point of the pain and take it out again, it is not strictly acupuncture. "What 1 have been aware of is that it is now being recommended we use medical acupuncture on the NHS, however, at the moment some people are saying yes and others are saying no; no-one can actually agree on whether to use it or not.
"Medical acupuncture is, in essence, medical and is used to treat medical conditions. There is no medical acupuncture available on the NHS."
Earlier this year it was recommended by the National Institute for Health and Clinical Excellence (NICE) that GP's in England and Wales be allowed to offer patients acupuncture on the NHS, however, as yet no decision has been taken on whether complementary therapies will be used as treatments on the NHS, although some pilot schemes have been held in the UK.
stacey.heaney@ulsterstar.co.uk
Ulster Star
28/08/2009