RAF nurse Ally offers front line support to troops in Iraq
"I am looking forward to getting back to British weather"
by STACEY HEANEY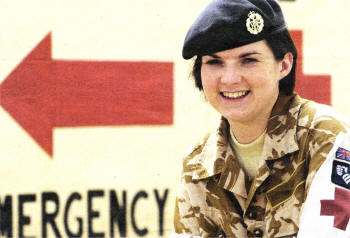 AS British forces prepare to completely withdraw from Iraq in July, a Lisburn Royal Air Force nurse has spoken about life in Basra where she is currently offering front line support.
Corporal Alexandra Lester, 24, a former pupil of Wallace High School, normally works at the Royal Centre for Defence Medicine at Sellyoak hospital. However, she is currently in the Army Field Hospital at the Contingency Operating Base at Basra, where she nurses on the medical and surgical wards.
Back in the UK Ally, as she is known to friends and family, looks after the critically injured soldiers flown back from Iraq and Afghanistan. This is her first time working out in the Iraqi desert. Speaking about life in Basra Ally said: "All the people admitted to the field hospital don't want to be there, so we all try to make their short stays as comfortable as possible.
As the mission in Iraq is reducing, thankfully the number of patients is dropping, but we still need to make sure the wards are kept clean to so that illness cannot spread."
While her nursing role in Basra may mirror that of any UK hospital, there are a few differences, the biggest being the heat.
"There are days when it is over 30 degrees and it's just too hot — it's only going to get worse in the coming months. I can't believe I am saying it but I am looking forward to getting back to the British weather' she laughed.
Ally, the daughter of William and Lyla Lester, left Lisburn to attend UCE University in Birmingham to study a BSC (Hons) in Nursing. She joined the RAF in 2004 and has spent all her career caring for injured personnel in Sellyoak hospital.
"I am enjoying my time in Iraq, especially having a great new group of people to work with, all of who have become firm friends," she added. Ally said she misses her family and her pet cats Buffy and Keira, and is looking forward to being able to enjoy a game of tennis in the British summer on her return.
And she had this message for her friends and family in the UK: "I miss you all but don't worry about me, I am enjoying doing the job out here — it's what I'm trained to do."
stacey.heaney@ulsterstar.co.uk
Ulster Star
15/05/2009