Oh Carolina! Sarah is off to study in the sweltering US
by STACEY HEANEY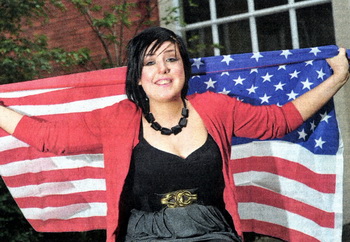 LOCAL girl Sarah McGuinness has left Lisburn's soggy summer behind recently to spend a year studying in sunny South Carolina.
Whilst local people have been facing what seems like non stop rain, Sarah has been enjoying a sweltering 30-plus degrees every day as she undertakes a Business Scholarship at Columbia College.
The 22-year-old, who has been studying Law at the University of Ulster in Jordanstown, is loving life in the US and is looking forward to spending this weekend celebrating Labour Day with her new friends at Myrtle Beach. Sarah, a former pupil at Rathmore Grammar, is undertaking the year in America as part of the Business Education Initiative (BEI) organised by the British Council.
She is one of 100 students who recently left Northern Ireland to study for a year in US colleges where they will gain valuable international experience and business knowledge.
Speaking about her time in the US so far, Sarah said: "The campus is beautiful. The schooling here is so different compared to home, the classes are smaller and you get homework every night."
She added: "I love the heat. It is 30+ degrees most days, which is taking some getting used to. With Labor day weekend coming up however it means that I will he spending the whole weekend at Myrtle beach."
The locals have already made an impression on Sarah, who said she could not believe how friendly the people are.
One thing taking some getting used to for the local girl, however, is the cuisine. "They fry everything and the portions are huge," said Sarah.
Karen McCormack from the British Council added: "We have a great group of students who are all very excited about the programme and looking forward to beginning their placements in the US. BEI provides an opportunity for the local students to gain an international outlook, helping to strengthen understanding between the two countries and to develop links and opportunities for future collaboration."
stacey.heaney@ulsterstar.co.uk
Ulster Star
04/09/2009